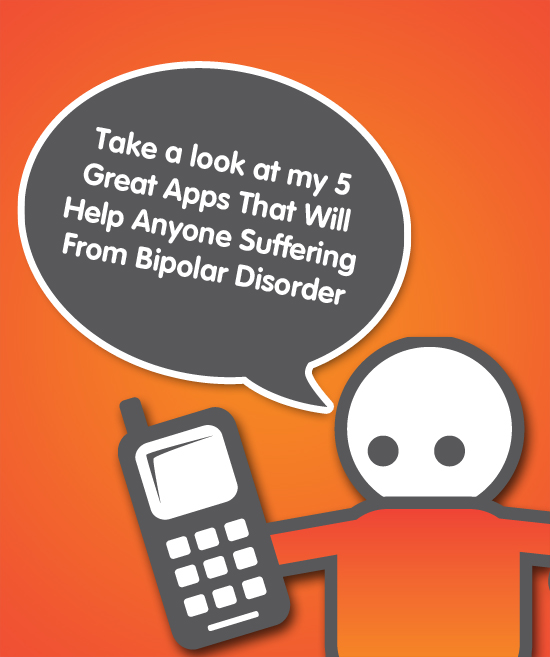 A small proportion of the American population is suffering from bipolar disorder, so there is a good chance you're one of them. If you've not spoken to a doctor yet that should be the first place you should go, but after you've received the bad news you might feel lost.
Luckily you can find your way in the world again because of a few special apps. I want to talk to you about some apps anyone with bipolar disorder should definitely check out if they want a little help.
iMoodJournal (https://itunes.apple.com/us/app/imoodjournal-mood-journal/id517952128?mt=8)
You're going to be experiencing a broad range of emotions, so it's very beneficial to track your mood on a daily basis. You might be able to spot what sets you off and it will allow you to have more control over your disorder even though you don't think that is possible at the moment. The app is full of some very cool extra-features too. There is one that lets you take a picture of your face when you're feeling a certain way and you can see how your appearance changes depending on how you're feeling.
Bipolar Disorder Uncovered (https://itunes.apple.com/us/app/bipolar-disorder-uncovered/id394048493?mt=8)
Bipolar disorder isn't some simple medical problem that can be summed up in a few words from a caring doctor. It's very complex and it's important you know as much about it as possible, especially if you're newly diagnosed or you think you might be suffering from it. Instead of relying on random information from the internet you should definitely use this app to learn everything you need to know because it will help you live a better life.
T2 Mood Tracker (https://itunes.apple.com/us/app/t2-mood-tracker/id428373825?mt=8)
This is another great app that will let you track things, but it's a little bit different from the last one. You will be able to keep track of important emotions such as anxiety, stress, depression, and general health. If you feel like tracking anything else you can also create custom scales to help you keep on top of everything. Once you have a good idea of how your moods change it will help your doctor to treat you more effectively.
Optimism (https://itunes.apple.com/us/app/optimism/id352262677?mt=8)
Once you end up in a dark episode it feels like your world is caving in on you and optimism doesn't even exist. The Optimism app will let you track your moods and after a while you'll be able to develop strategies that can help to improve them. You will even be able to learn how to predict when you're about to enter a dark state once you start to notice your triggers. Hopefully you will learn to do something before your moods start to destroy your life.
Mental Illness (https://itunes.apple.com/en/app/mental-illness/id332173994?mt=8)
As soon as you start experiencing problems you don't have any clue what is happening. If you don't know what is happening it's hard to explain it to your loved ones because they can't feel what you're feeling. Mental Illness will give you great information you can pass onto family members so they know a little more about what you're going through. Bipolar disorder is only one of the conditions the app mentions so it's suitable if you're suffering from other things too.
Change your life
When was the last time you actually had something to look forward to? It might feel like all hope was lost a long time ago, but I hope you're one of the people who can fight hard for a normal life. These apps are definitely not a miracle cure so you can't expect the world, but they can go some way to improving your life. Choose the ones you think will help you the most and test them out.
This post is co-written by Jenny, an avid blogger and employee at Freedom Lift Systems, providers of best platform lifts for wheelchairs. She suffers from Bipolar, and likes to share her opinions via blogging.