Last updated April 12, 2019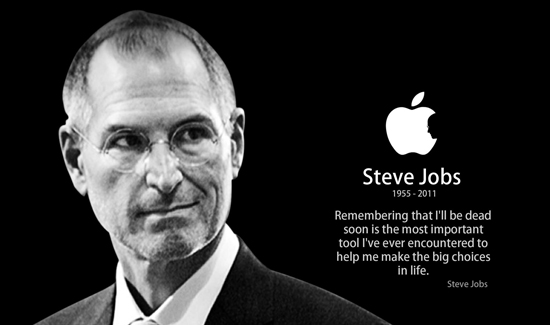 Steve Jobs was a man of many talents who revolutionized the world of technology. He was a pioneer, an inventor, and an entrepreneur who started a company in the garage of his parent's house, and turned it into a billion dollar powerhouse that employs over 80,000 people worldwide.
Whether you are an Apple fan boy or not, you can't deny that he was an icon of his time, and idol, and a powerful leader who even built up a close relationship with one of his main rivals, Bill Gates. People all across the world would eagerly await his keynote presentations, and formed huge queues outside Apple stores to buy the latest iPhone's and iPads on offer.
He changed the way people think by thinking differently himself, and his perfectionism and attention to detail made us love him.
It has been over two years since Steve Jobs passed away, but he still continues to influence many businesses from small to large, and many people from big CEO's to just starting out entrepreneurs.
So as a tribute to Steve, here are 10 of the most poignant quotes to help motivate and inspire you.
Quote 1: The Most Important Tool
"Remembering that I'll be dead soon is the most important tool I've ever encountered to help me make the big choices in life. Because almost everything – all external expectations, all pride, all fear of embarrassment or failure – these things just fall away in the face of death, leaving only what is truly important."
Quote 2: Details Matter
"Details matter, it's worth waiting to get it right."
Quote 3: Look Forward, Not Back
"Let's go invent tomorrow instead of worrying about what happened yesterday."
Quote 4: Going The Extra Mile
"If you don't love something, you're not going to go the extra mile, work the extra weekend, challenge the status quo as much."
Quote 5: Don't Lose Faith
"Sometimes life is going to hit you in the head with a brick. Don't lose faith."
Quote 6: Being Successful
"I'm convinced that about half of what separates the successful entrepreneurs from the non-successful ones is pure perseverance."
Quote 7: Things Take Time
"If you really look closely, most overnight successes took a long time."
Quote 8: Defining A Leader
"Innovation distinguishes between a leader and a follower"
Quote 9: Love What You Do
"Your work is going to fill a large part of your life, and the only way to be truly satisfied is to do what you believe is great work. And the only way to do great work is to love what you do. If you haven't found it yet, keep looking. Don't settle. As with all matters of the heart, you'll know when you find it."
Quote 10: View On Wealth
"Bottom line is, I didn't return to Apple to make a fortune. I've been very lucky in my life and already have one. When I was 25, my net worth was $100 million or so. I decided then that I wasn't going to let it ruin my life. There's no way you could ever spend it all, and I don't view wealth as something that validates my intelligence."