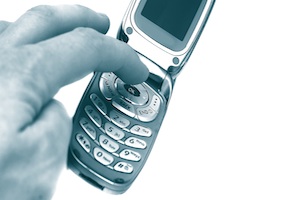 A woman, so ensconced in a telephone conversation on a cell phone that she appears to have been oblivious to everything else around her, has been killed by an oncoming train in Marmet in Charleston, West Virginia in the United States. 34-year-old Angela Dawn Selbe was walking home along train tracks at around nine o'clock in the evening on Tuesday when she was killed by a CSX train that hit her from behind. Witnesses say the train driver had no chance of avoiding her and that Selbe seemed to be completely oblivious to the danger, engrossed in a conversation on her old cell phone and making no attempt to budge from the tracks even as the train bore down on her.
"They laid on the horn and started flashing the lights on the front of the train to warn her," says Marmet Detective Chuck Buttrick. "They did everything short of going out onto the nose and throwing a water bottle at her. She made no effort to move out of the way."
Video footage from the train recorded the entire incident and showed that Selbe was talking on her cell phone and seemingly utterly unaware of either the train's presence or the danger that she was in. She was declared dead on site and the death has already been ruled to be accidental, although an autopsy and toxicology analysis will still be conducted.