Last updated April 12, 2019
Have you ever found yourself in a Starbucks, ordered a cup of coffee, got yourself a table to sit down at to drink it, then taken out your Smartphone only to realize your battery has about 2 minutes left on it before it dies?
Congratulations you are just like me! If you are then you will be happy to know that coming to a Starbucks near you soon, could be Duracell Powermats that are inbuilt into the table tops that will allow you to rest your phone on to charge.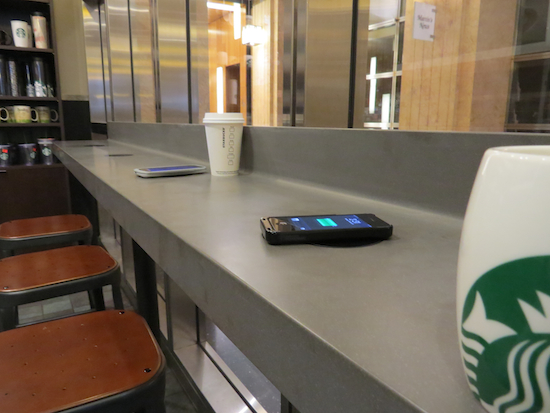 Starbucks' chief digital officer, Adam Brotman, says the inductive charging system by Duracell Powermat is being built into a number of the brand's tabletops "just to get a sense for how our customers will react, compared to having to plug their mobile devices into the wall."
The trial will start here in the US this Christmas and then it will be rolled out further afield in 2013.
Here are the 17 stores and locations that will you can test the Powermats on:
Store #/Location
#869 Federal Street
#7377 One Financial
#10599 Summer Street
#7702 Commonwealth Avenue
#870 Newbury
#883 Steaming Kettle
#16439 Cleveland Circle
#7535 School Street
#875 Devonshire
#7224 Beth Israel
#7234 Mass Avenue
#7804 Children's Hospital
#801 Charles Street
#7102 Harvard Yard
#7502 Davis Square
#7338 Central Square
#7805 One International