33 Million iPhone Users Could Be Missing Out on Getting a Better Deal for Their Old Phone
With 135 million iPhone users in the USA, up to 33 million* people who trade-in their device with a Carrier (eg. Verizon, AT&T, T-Mobile, etc.) could be missing out on getting a better price for their old iPhone.
25% of iPhone users automatically upgrade their old iPhone through their Carrier Network. In doing so they could be making $400 less at resale value (for an iPhone 13 Pro Max 1TB)
Data shows that selling an iPhone through an Online Phone Trade-In Specialist means that iPhone fans would get on average $189 more.
The iPhone 15 launch is upon us. Apple have announced their Wonderlust Event on 12th September. At this time it is widely anticipated they will launch their new generation of iPhone models, including the iPhone 15 through to the Pro Max Range. Rumors are circulating that Apple is set to increase their prices even further this year by $100 – $200. iPhone Fans therefore need to get the best deal for their old iPhone to put towards the iPhone 15.
Purpose of Report
With iPhone Fans ready to buy an iPhone 15, what do they do with their old devices? SellCell conducted a survey of 2,000 phone users (1000 iPhone & 1000 Android) to find out what they do with their old phone when they upgrade. The report also illustrates if this is giving them the best chance at getting the most cash for their old device.
The survey/ report looks at :
What Phone owners do with their phone when they upgrade eg; selling, gifting or keeping as a second device.
How many people, by default, trade in with a Carrier vs Manufacturer or an Specialist Online Buyer.
The RESALE VALUE users can get for their old iPhone across Carriers, Apple and Online Buyers. The data shows the best and worst trade-in prices dated 7th Sept 2023.
Key Findings – Are iPhone Users Losing Out?
25% of iPhone owners and 20% of Android owners (total ave. 22.5%) automatically trade-in with their network carrier. Network carriers offer on average $189 less than online buyback specialists. For an iPhone 13 Pro Max 1TB that's up to $400 less. With 25% of iPhone users upgrading with a carrier, this could equate to millions of dollars of losses for iPhone owners who opt for convenience over cash
A total of 34.5% of iPhone owners trade-in with Apple. 25% of Android fans automatically opt to sell to their manufacturer. In total 30% trade-in with phone manufacturers, which is the majority of people.
7.3% of Apple owners will sell the phone online to an independent buyback specialist (SellCell, Gazelle), 8% of total phone owners will gift it to someone and a whopping 25% of the 2000 respondents will keep the old phone as a second device. This means they could be losing out on hundreds of dollars if they sold it rather than kept it.
Main Survey Findings
SellCell asked 2000 phone owners (equally split between iPhone and Android) what they do with their old iPhone when they upgrade. The results vary by iPhone and Android seller.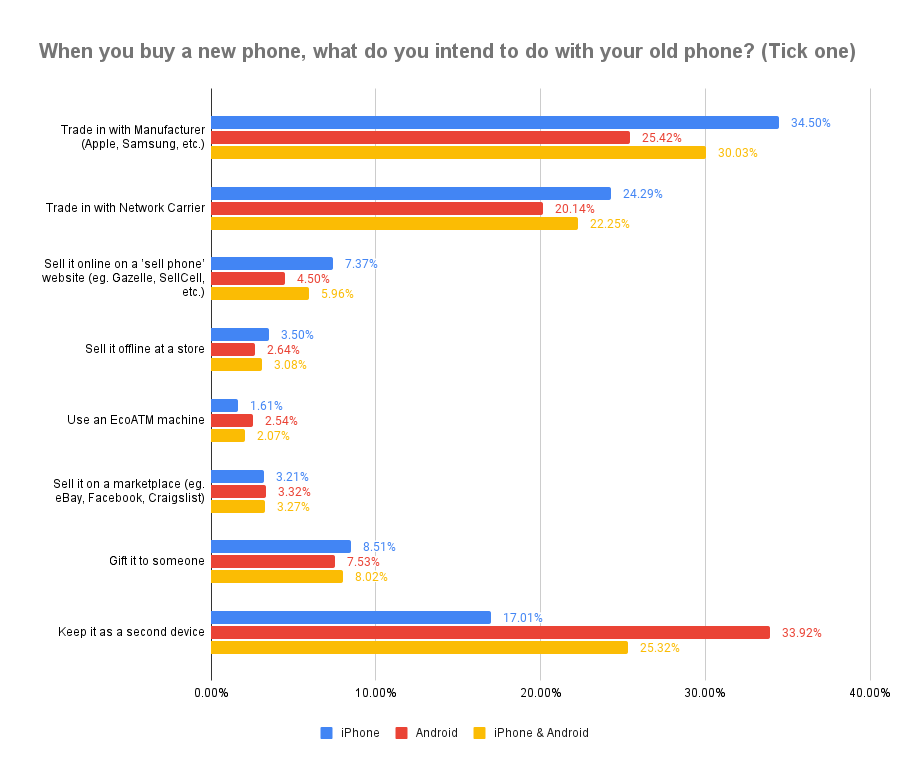 When you buy a new phone, what do you intend to do with your old phone? (Tick one)
Answer Choices
iPhone
Android
iPhone & Android
Trade in with Manufacturer (Apple, Samsung, etc.)
34.50% / 365
25.42% / 260
30.03% / 625
Trade in with Network Carrier
24.29% / 257
20.14% / 206
22.25% / 463
Sell it online on a 'sell phone' website (eg. Gazelle, SellCell, etc.)
7.37% / 78
4.50% / 46
5.96% / 124
Sell it offline at a store
3.50% / 37
2.64% / 27
3.08% / 64
Use an EcoATM machine
1.61% / 17
2.54% / 26
2.07% / 43
Sell it on a marketplace (eg. eBay, Facebook, Craigslist)
3.21% / 34
3.32% / 34
3.27% / 68
Gift it to someone
8.51% / 90
7.53% / 77
8.02% / 167
Keep it as a second device
17.01% / 180
33.92% / 347
25.32% / 527
The research shows that most phone buyers trade in with their manufacturer incl. Apple, Samsung (total of 30%). This is followed by 25% of iPhone owners & 20% of Android users who trade-in with their network carrier (Verizon, T- Mobile and AT&T). More iPhone owners sell a phone on an online specialist such as SellCell or Gazelle (7.3%) as opposed to 4.5% of Android owners. Surprisingly, a large number of people are holding onto an old device to keep as a secondary device (25% in total). A whopping 33.9% of Android owners can't bear to let go of their old device and use it as a second device. They may be losing out on the chance to make hundreds of dollars trading the device in.
Comparison of iPhone Trade-In Values
The table below looks at prices across various companies offering iPhone trade-in. These include Apple, Network Carriers such as Verizon, AT&T, T-Mobile. The data also reviews the prices at Best Buy and the Top Price available at Online Price Comparison site SellCell. SellCell compares the market of specialist online tech buyers (inc BuyBackBoss, Decluttr, ItWorthMore etc).

The data taken on 7th September 2023 shows that trading in a device to an online specialist is financially the best option. In many cases online specialists offer more than double the trade-in value of a carrier. With the iPhone 13 Pro Max 1TB, SellCell offers $400 more than the price listed on AT&T.
The iPhone 13 Pro 1TB can be sold on SellCell for $685 vs only $350 at AT&T. More than that, independent specialists also offer users cash, rather than store credit. Store credit is typically applied to an online account. With the lower trade-in prices typically being shown across the Carrier Networks, 25% (33 million) iPhone buyers could be losing millions of dollars collectively.
Summary – Can iPhones Users Get a Better Deal?
Apple generally increases prices for each new generation iPhone. For those iPhone fans that are thinking about upgrading to the new iPhone, being aware of the trade-in options available is advisable. With good reason a high number of phone owners opt for the convenience of carrier and manufacturer upgrade programs. They may be happy to sacrifice money for the ease of trading in with these sites and keeping in the seller upgrade system. However, with the cost of living hitting all of our pockets it may be wise for iPhone sellers to shop around and explore other trusted buyback specialists. Independent comparison sites, like SellCell can also help users sell their iPhone comparing the market objectively by price, speed of payment and user reviews.
Methodology
SellCell surveyed 2000 phone owners, (1000+ iPhone and 1000+ Android) from the USA (18+). The survey objective was to understand what people do with their old phone when they decide to upgrade to a new phone. No personally identifiable information was stored.
SellCell an online price and tech comparison site, compared the trade-in prices across various buyers. SellCell independently compares over 40 specialist online phone buyback stores, so presented the top price available from these brands.
*25% of iPhone users trade in with their carrier multiply this by 135 million people who have a phone in the USA =33 million possibly getting a lower price for their old phone)