Last updated April 12, 2019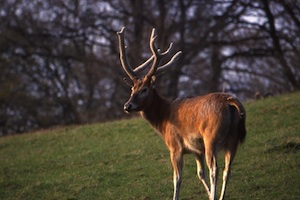 A cell phone store in Wayne, Pa, had a decidedly unexpected visitor on Monday afternoon – in the form of a curious deer. The Sprint Store located in the Gateway Shopping Center at 285 Swedesford Road found itself playing host to a six-point buck that ran straight through the open front door of the shop and hopped over the customer service desk, knocking over a computer in the process, although whether this was an attempt to lodge a complaint remains unknown at this time.
Store manager Jeremy Johnson, Sprint regional sales manager Linda Gordon and an employee, Kunjan Patel, were the only ones in the store when the incident happened. "Obviously you don't expect that," Johnson admits. "You have to look at yourself and think, "Is this really happening?" Johnson, Gordon, and Patel ran out of the store, locked the door and called the police, but not before Patel captured the bizarre occurrence on his own cell phone video.
The deer gave itself a minor injury on a bathroom sink – possibly a result of seeing itself in the mirror – before simply running out of the store in the same way it came in, ignoring police.
The store was forced to close temporarily to repair the damages made by their unexpected visitor, a sign on the door reading "We are temporarily closed to due to an early unannounced visit from one of Santa's reindeer".
Patel says he's uncertain what the deer's interest in the store was. "Pretty much all the phones", he quips, "but truly the unlimited data, that's what it wanted… he was just trying to save a buck".