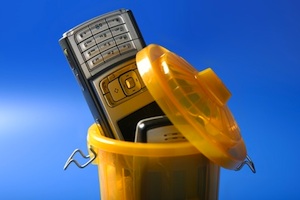 In order to tackle the growing menace of electronic waste and dispose of it in a scientific manner, the Baroda IT association (BIT) in India organized an exhibition that ran over three days from 17 thru 19 February in Vadodora. The event was held in conjunction with Ahmedabad-based non-government organization EcoSarjan.
"We collected nearly three tons of e-waste in first two days itself, which increased to four by the end of the third day," says the director of EcoSarjan, Dipan Shah. "This waste has already reached Ecoli Waste Management Pvt Ltd where it will be disposed as per Gujarat Pollution Control Norms." The electronic waste included the likes of old cell phones, CPUs, landline devices, typewriters, tube lights, modems, USB drives and many more out of use electronic appliances.
Shah and partner organization BITA developed an innovative idea in order to make sure there would be more participation in the program. "We had promised cash vouchers to those who deposited their e-waste with the centre," he admits. "These vouchers could be redeemed at the exhibition to buy a new electronic program."
Following the electronic waste drive, Shah has begun to receive a growing number of telephone calls from the likes of corporate houses, individuals and retailers that want to dispose of their out of date electronics, a response that should help collect up to three times the amount of waste taken in during the exhibition.