Last updated April 12, 2019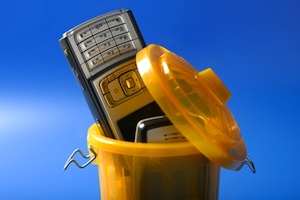 The e-Waste Rules 2011, pertaining to the management and handling of electronic waste will come into force from 1 May in India. The rule makes it mandatory for the Maharashtra Pollution Control Board as well as Nagpur Municipal Corporation to begin collecting and safely disposing of electronic waste, and yet neither of the two government institutions has yet so much as even prepared a road map for how the new rules are to be implemented.
Enormous quantities of electronic waste, including the likes of old cell phones, are gathering in the city each and every day, and due to the lack of planning and the absence of a clear policy, the e-waste is being collected along with ordinary garbage by Nagpur Municipal Corporation. As a result, the electronic waste has been being disposed of in an unscientific way that is causing environmental pollution and health hazards for human beings.
The process to come up with a road map will begin in the next few days, according to Deputy Director of health Dr Milind Ganvir. "A couple of NGOs including Centre for Sustainable Development have submitted a proposal to undertake the work," he says. Urban local bodies in a number of other states have already begun sending notices to establishments to register under the new rules, as well to establish a proper method for the safe collection and disposal of electronic waste.