Last updated April 12, 2019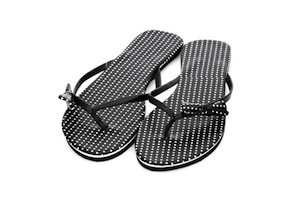 A teenager who fell down a rubbish chute, while trying to retrieve her old cell phone, has blamed the accident on her 'flip-flops' footwear. Nineteen-year-old Amanda Still from Dunwoody in Georgia accidentally dropped her cell phone into a rubbish chute while trying to hoist a bag in. Reaching into the chute to try to retrieve the mobile device, the teenager slipped and ended up falling down the shaft herself.
Still spent the next two hours wedged in with the trash before finally being rescued by firefighters at eight o'clock in the morning, after a friend phoned 911 about the odd misadventure.
"I tried to get it out with a broom and then it didn't work so then I saw the phone," Still told CBS Atlanta. "It was right there. I never would have fallen in, but I had on flip-flops. They slipped, and I went all the way down. I was stuck there, upside down, one foot up, one foot down, for about two hours."
Dunwoody Police Sgt Fidel Espinoza says that Still can think herself lucky that there was so much garbage down there, as the bags of waste broke her fall and actually stopped her from going into the compactor itself. Still suffered just cuts and bruises from the accident but he was taken to the hospital as a precaution. "I can't believe I was in that thing," she notes. "I thank God I'm alive."