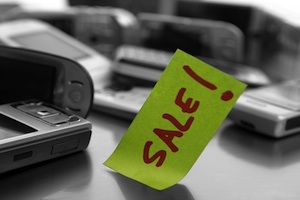 Worldwide sales of cell phones fell by two percent between the months of January to March this year after ten consecutive growths of growth, with Chinese buyers holding back in anticipation of the newer models and economic uncertainty also weighing on developed markets, according to research firm Gartner.
The data, which was published yesterday, confirmed that the South Korean firm Samsung became the biggest cell phone manufacturer in the first quarter in the entire world, ending the Finnish firm Nokia's 14-year reign following many years of gradually losing ground, particularly when it came to smart-phones. "The economic environment is challenging in Western Europe and North America," says Gartner analyst Anshul Gupta.
Sales of handsets in China, the world's biggest single market for cell phones, fell over six percent from a year ago, with consumers now waiting back for the more advanced models to hit the market later in the year. The slowdown in demand hurt Nokia the most, with its overall market share falling from 25.1 percent last year to just 19.8 percent and its smart-phone share shrinking to just nine percent in the year's first quarter. "Most of the losses of Nokia in smart-phones are picked up by Samsung and Apple," Gupta points out.
Samsung's market share rose to 20.7 percent, with Apple, which is the number three in terms of worldwide cell phone sales volumes, seeing its share more than doubl