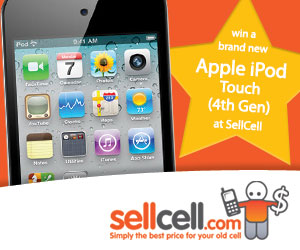 To celebrate the launch of SellCell.com in the USA we're offering you the chance to win the latest and smartest Apple iPod Touch 4th generation 8GB! The SellCell.com iPod 4th Gen competition is FREE to enter. All you have to do is 'Like' our SellCell.com Facebook page. Click here to enter. The competition runs throughout December and January and the lucky winner will be picked at random on the 1st February. You can also enter via Twitter and receive an extra entry for every retweeted click you generate!
Click here to enter the competition on Facebook or if you prefer to enter via Twitter
** Tip: when you have completed your entry, publish the results to your wall (this will appear as a facebook popup) and we'll give you another entry for free – that's double the chance to win!
**
So let's hear about the prize!
The best features from the iPod Touch 4th generation:
Video calling is in full effect on iPod touch. Now your friends can see what you're up to, when you're up to it. With the tap of a button, you can wave "hi" while standing in a foreign country, get a second opinion on a pair of boots, or have your friends bear witness to the everyday pranks, bets, and dares they otherwise might have missed — new iPod touch to new iPod touch or iPhone 4 over Wi-Fi. And come face to face with even more fun.
Thanks to the Retina display, everything you see and do on iPod touch looks amazing. That's because the Retina display's pixel density is so high your eye is unable to distinguish individual pixels. Which means images in games, movies, and photos pop off the screen. Text in books, web pages, and email is crisp at any size. And everything is sharper. No wonder it's called "cutting edge."
"You should have seen it!" is a thing of the past. Because with iPod touch, you'll always have a great HD video camera with you. Say you're at a party and you see someone popping and locking. You're ready to capture the moment in all its glory. In high-definition 720p video. You can record video in low-light settings, thanks to the advanced backside illumination sensor. You can even edit and create your own mini blockbuster right on iPod touch using the new iMovie app — with Apple-designed themes, titles, and transitions. It's available on the App Store for $4.99.
It's time to make a game plan. The new Game Centre app on iPod touch lets you add more players to your gaming network. Invite friends to join. Then totally dominate them. Take a look at how your score ranks against your friends and other players of each game. Compare game achievements with your friends. Put together a select group of friends to play with. Or choose to automatically go up against people you don't know in a multiplayer game. So get in the game. And get your friends in it, too.
For the full spec of this fantastic price visit the Apple Site here.
Click here to enter the competition on Facebook or if you prefer to enter via twitter
It's FREE to enter so enter today!