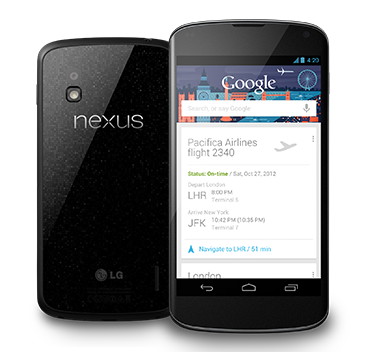 Yesterday Google sold out of Nexus 4 devices in such a quick time that many of us hardly had a chance to get on the site to take a look at the device, let alone place an order.
However you will be glad to know that if you are looking for a Google Nexus 4, but don't want to be connected to a specific carrier, that as of today you can get your hands on one of these devices for a price of, wait for it…. $499.
Obviously the price is higher than the price that was showing on the Google Play store, which was $349.99.
So if that price sounds too much for you then you can sign-up for a T-Mobile contract where you can get the Nexus 4 for just $199, the drawback, you guessed it! You will have to sign up to a two year contract.
T-Mobile is Google
Now the good news is that the T-Mobile version of the Google Nexus 4 has been confirmed to be the exact same device as the one that gets sold on Google's own Play Store. T-Mobile haven't tampered with the device meaning that you will find no custom software on it, and you will get Android updates come through in a timely fashion without any problems.
So to conclude with; you can either pay out more to get the device off contract, or you can pay less but get tied into a 24 month contract with T-Mobile (you can opt for unlimited data now, as this feature has made a fond return).