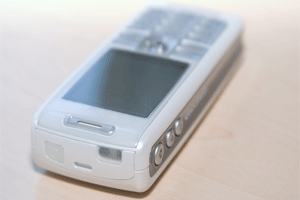 A small angel positioned on the cathedral of S-Hertogenbosch in the Netherlands has managed to earn itself an article all about it in The New York Times. Created by Dutch sculptor Ton Mooy and revealed to the public April of last year, the angel has attracted attention for reasons that are immediately obvious. It wears jeans, for one thing, has a backpack between its wings and even has its own cell phone line wherein it talks back to parishioners.
A local family came up with the notion of giving the angel its own phone line and it now has its own Twitter account as well. The Catholic authorities responsible for the cathedral certainly haven't objected, jumping at the opportunity the angel has given them and going so far as to hire an actor to be the voice of the angel on their very own "Call the angel" hotline. Callers can be directed to various information lines for a small fee, of course, which promote and evangelize the Gospel.
As a result of all this, the little statue of an angel with a cell phone has become a nationwide phenomenon, inspiring the faith and imagination of followers and using modern technology to give believers what appears to be a direct line to the Almighty. With churches having fallen into disuse all across Europe, some are asking if more cell phone wielding angels might not be the answer to the church's prayers.