Hands up how many of you have been waiting for this announcement? We can now confirm that the ceramic black HTC One S has arrived at T-Mobile USA.
Not only has it arrived, but it has done so in some style offering a rebate and a freebie!
The device is worth $549.99 but if you order online you can get a $149.99 discount, an instant discount of $350, and a mail in rebate of $50, reducing the phone to…well….$0.
Yes it is free on contract, but as usual you will need to sign a two year contract with T-Mobile in order to benefit from this. You will also be required to sign up to a contract that has a data plan.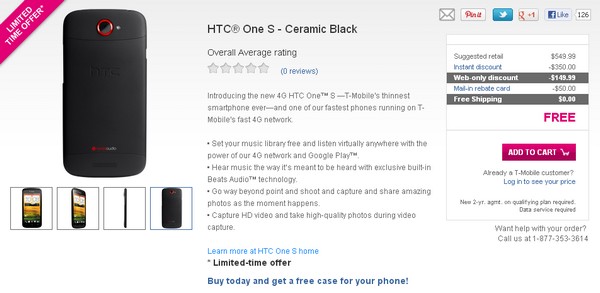 So what's The Freebie?
The freebie is a HTC One S Body Glove Revel Shell, which usually retails at $14.99. The case is a two piece hard case which easily allows access to all ports and controls that will allow you to work the phone as normal. For me the best part of this case is that it can also, and very easily, be converted into a kickstand.
Prepare For 4G
Another bonus is that this One S will take full advantage of T-Mobiles 4G network, as well as capturing video at 1080P with 60FPS.