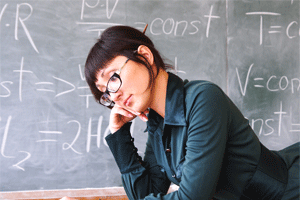 If you have time, Google Vodafone's "Evolution of the Mobile" video that was created to advertise Android – a video which takes an old chunky handset and morphs it into a modern smartphone.
The video was produced for Vodafone, one of the UK's top cellular phone service providers. The technology behind the video is 3D projection mapping, where an object serves as the projection screen, rather than having the traditional flat projection screen hung behind it on a wall. For this video, the screen is a table on which a series of cell phones are placed. According to the write-ups, the 3D projection mapping techniques are being used on a small scale never seen before.
The phones used in the video are all dummies that have been painted white. Everything you see is projected from above; giving the illusion that the cell phones' buttons, keypads, and screens are actively in use. Meanwhile, the table turned screen puts forth many visual effectss that work together with the cell phone visual outputs to make what is a pretty cool video.
The only flaw, as some critics have noted, is that the video doesn't include an iPhone – and what's the Evolution of the Mobile without the most revolutionary handset ever?
While the Vodafone video is entitled "The Evolution of the Mobile", you will need to add the term "Vodafone" to your search unless you want to wade through a lot of other "Evolution of the Mobile" related material.