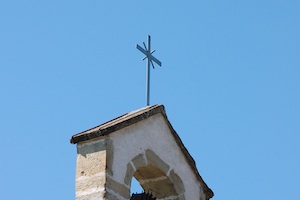 Bell Mobility appears to have found religion, with the company looking over a number of different church properties in Mississauga in order to locate cell phone towers. The firm has already made one location, Kingdom Glory Church, which is situated on North Sheridan Way, where the cell phone tower appears in the guise of a soaring cross.
Now Bell Mobility is also proposing that a 31-meter tower be built at the nearby Presbyterian Church on Clarke Road. The firm had previously made inquiries at a neighborhood United Church congregation, and just 12 months ago had proposed the idea of a cell phone tower for a Lutheran church, only to withdraw the proposal after being met with local opposition.
"I just think they are really targeting churches," says the head of the Hillcrest Ratepayers Association, Julie Morris. While many churches might be happy to accept the idea as a Godsend, given that they are apparently being offered as much as $13,000 in rent per annum, local politicians and nearby residents view the proposals rather differently.
Bell has denied that they are specifically targeting churches. "Our priority when selecting a site is ensuring the location meets our network coverage requirements," the company claims. "While some of our sites are located on church property, others are on property owned by private citizens, businesses or government." The firm declined to reveal the level of rent it pays.