Since its release last year the iPad mini has proved to be hugely popular, even more so than was expected by Apple. It has become so popular amongst consumers that it overtook the iPad in sales and it continues to be extremely popular for those on the lookout for a tablet.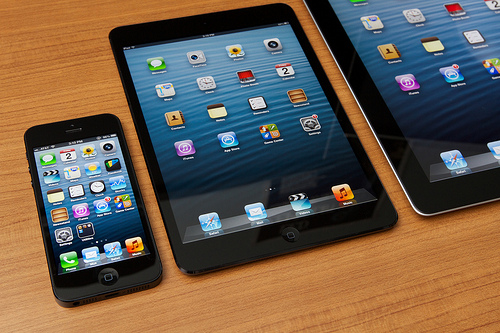 Both devices have their plus sides and their drawbacks so I've have put together a brief guide to the pros and cons of both tablets in case you find it tough to make a choice between the two.
Ipad
Pros:
The latest ipad has a very fast internal processor that allows games to run very smoothly and improves graphics performance. The size of the tablet makes it ideal for reading web pages because text is easy to read, and the screen also lends itself to viewing photos easily. With its advanced retina display the screen is so crisp and clear, you won't be able to make out the individual pixels
Cons:
The iPad is around £100 more expensive than a mini, so if price if one of your top considerations that must be taken into account. Weighing twice as much as the mini and being significantly larger, the iPad is portable but not particularly easy to store when on the move. You won't be able to put it in your pocket and using it as a replacement for a camera could prove to be awkward in crowded public places.
iPad mini
Pros:
The mini is a good option for those with a limited budget as it is Apple's cheapest tablet and offers a good amount of memory at 16GB. The diminutive size of the iPad mini makes it ideal for using on the move. It is light, fits ionone hand and can be easily placed in pockets or handbags.
Cons:
Reading text is more difficult on the mini and will require a lot of zooming if you intend on reading large amounts of text heavy web pages or documents. The lack of retina display is the only other main drawback, although the screen does contain more pixels per inch than the larger iPad
If price is an issue for you then the mini is the sensible option, as is the case if you intend to use your tablet on the move a lot. If you need a lot of memory space then the large iPad will be more suited to you, with up to 64GB of space available. Wherever you use your tablet make sure to keep it protected from drops, scratches and spills with a protective case!
Keep your iPad and iPad mini's safe and secure, whilst looking incredibly stylish with a case from The Snugg. Be sure to check out the latest iPad mini cases at Amazon.