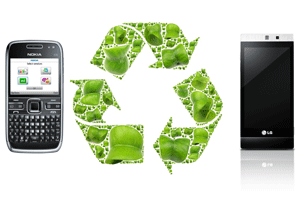 The Strongsville Youth Commission (SYC) in Cleveland in the United States is big on recycling, particularly when it comes to recycling cell phones and other electrical goods. Katherine Nykiel, the leader of the Youth Commission, says that SYC members are passionate about the issue and about keeping such products out of landfills, and have formed a subgroup of the SYC, known as "Lean, Mean and Going Green". The subgroup has itself recently joined forces with the city of Strongsville, Strongville's Arborist Jennifer Milbrandt, and the RET 3 – a non profit organization devoted to recycling old cell phones and other electrical goods – to raise the issue's profile with the local community, beginning with a "Recycle Your Electronics" event which was held on the fifteenth of last month at Strongville's City Service Centre.
"We decided to host this event after Christmas to give people the opportunity to properly dispose of their old electronics since many people get new electronics as gifts," notes SYC member and junior Strongsville High School student Sarah Stalder. Katherine Nykiel adds that the event also benefited "Northeast Ohio schools by refurbishing and repurposing desperately needed computers and distributing them around the region". Adrian Padin, SYC member and sophomore Strongville High School student, says that he hopes the event will have raised "awareness to the community" and shown them that there is an "alternative to just throwing things away" when it comes to old technology.
The recycling of used cell phones and other electrical equipment is becoming increasingly common throughout the state of Ohio.