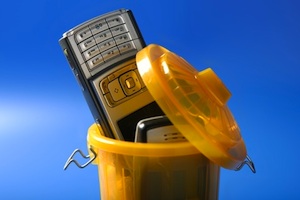 Borneo's first electronic waste collection centre, which will cost about RM 500,000, is to be constructed in Deshon Road in Sibu in order to try and solve the problem of the indiscriminate dumping of such waste, which includes old cell phones. The proposed two storey structure will sit on land about half an acre size, according to Datuk Tiong Thai King, the chairman of the Sibu Municipal Council (SMC), who says that the council will be fully supporting the initiative which has been led by the Sibu branch of the Computer Sales and Association Sarawak (CSSA).
"The proposed centre will be built on an open space in Deshon Road," Tiong informed The Borneo Post following the CSSA Sibu's branch's annual dinner, which was held on Sunday. Tiong could not state for definite when the project would commence, just that the association had approached SMC in regards to the matter but was still waiting for their plan to be submitted. "It is hoped that with the facility, Sibu people will find it easy to recycle their unwanted or obsolete computer accessories and other e-waste."
"We are going to have a final round of discussion with all our members and work out how best the proposed centre can benefit the people of Sibu," says Wong Ing Ang, the branch chairman of CSSA Sibu, adding that they were intending to add an incubation centre and information centre as well as its primary function as an electronic waste collection centre.