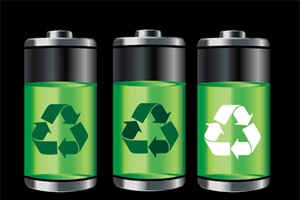 Residents of San Mateo in California in the United States now have an easy option for them to be able to live up to their legal obligations when it comes to the recycling of the batteries of old cellular phones. It was made illegal to just dump the batteries of used cell phones in the state five years ago in 2006. Now residents can easily both follow the law and help the environment by just putting them in a clear plastic bag and then dumping them on the blue recycling cart provided on the normal recycling day.
Those who do not want to wait for recycling pick up day for whatever reasons do not have to. There are many other locations dotted about San Mateo for the benefit of residents, with a full list of drop off locations available via the San Mateo County RecycleWork's online recycling directory.
The options do not even end just there either, with many retail outlets who sell rechargeable batteries also being keen to take your old cellular phone batteries off your hands. Cell phone recycling company Call2Recycle has a full list of retail stores which cooperate with the idea on their website.
"Battery recycling depends on the chemistry of the battery," notes the CEO of Call 2 Recycle, Carl Smith. "Not all batteries are recycled the same," he adds, pointing out that rechargeable batteries have more useful and recyclable elements to them than the single use variety.