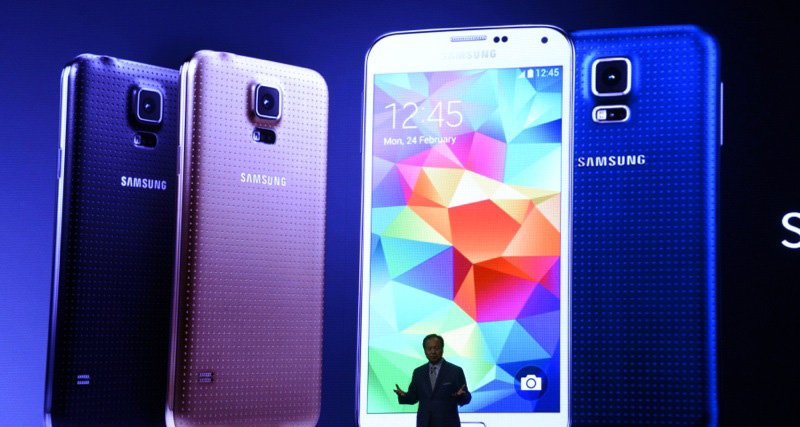 When it comes to Smartphone launches, it's fair to say that Apple have that cult following to make any event a spectacle for the media, neutrals and hard-core fans. However, in the hour event we saw from Samsung tonight, we are in for a real treat with the Galaxy S5.
Where Do We Start?
Well there was that much on show it's hard to pick an area to start with, but I think the main talking point will be the fact that the new S series of Smartphone has a heartbeat monitor on the back. Samsung are really driving home "fitness" with the Galaxy S5, and were quoted to say that they are responding to customer feedback.
The customer wants a modern glam look, a great camera, the fastest network, and the final two qualities are durability and assistance with keeping fit.
In terms of the spec, you are looking at an incredible bit of kit with the Galaxy S5. The camera in itself is impressive, with a 16-megapixel camera that has a fast autofocus of 0.3 seconds, along with enriched colour and advanced HDR. You also have a 5 megapixel front facing camera, for calls and "selfies".
"For the first time in a smartphone," you get phase-detect as well as contrast-detect autofocus. There's a companion chipset dedicated to the camera as well. 0.3-second AF. "This is the fastest ever autofocus for a smartphone."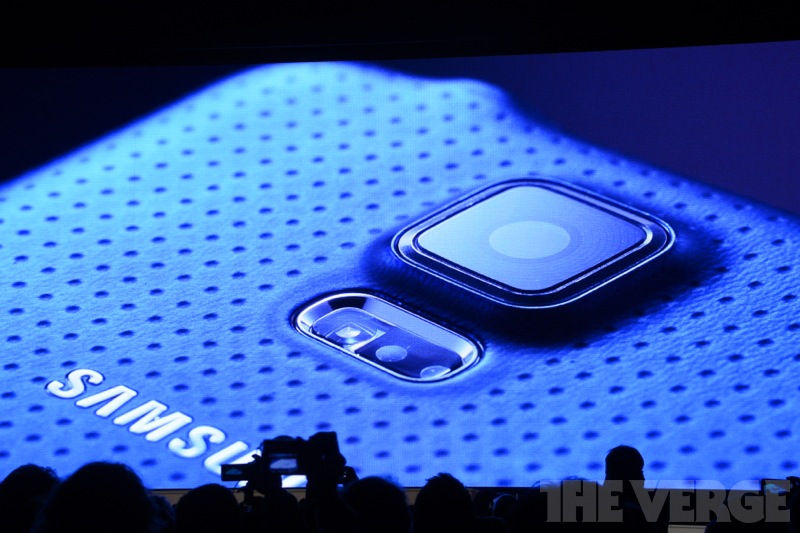 The screen is a 5.1-inch full HD super AMOLED display, that's capable of a resolutions of 2560×1440. There will be a quad core processor, 3GB of RAM, all run on the latest Android KitKat 4.4 Operating System.
Battery Power
One thing that Samsung has focused on is improving battery life on their range of Smartphones. As we all know battery life is a major issue in modern day phones due to the power consumption of apps.
The Galaxy S5 is going to be shipped with a 2800mAh battery, but there will also be an Ultra Power Saving mode that will allow you to really make the most out of your new phone.
Allegedly is your Galaxy S5 is down to only 10% battery, it can still last up to 24 hours in standby.
Quirky Features
Samsung are great for gimmicky novelties, but with the Galaxy S5 it seems they are bringing current technology onboard. The Galaxy S5 is IP67-rated for dust and water resistance, but I wouldn't advise putting it in water for long periods of time, it's still a Smartphone after all.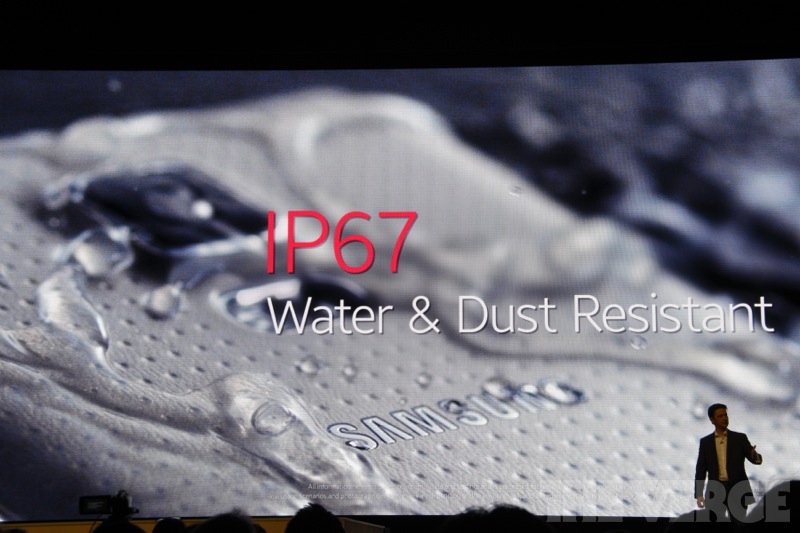 The Galaxy S5 will also be the first smartphone with Wi-Fi MIMO, which Samsung claims nearly doubles Wi-Fi connection speeds. They have also gone to the effort in adding a fingerprint scanner, which you can find built into the home button on the front, yes, just like the iPhone 5S.
Your fingerprint will also help make secure payments, unlock a Private Mode, where you can see your more security-sensitive documents and photos.
Kids Mode
It's essentially the opposite of the Privacy Mode setting, it takes the basic Galaxy S5 experience and cuts it down to only the parts you feel comfortable your kids having access to. This is a great feature for parents to cut down what their kids have access to.
The Look & Feel
The Galaxy S5 is set to be available in four different colours, these are gold, blue, black and white.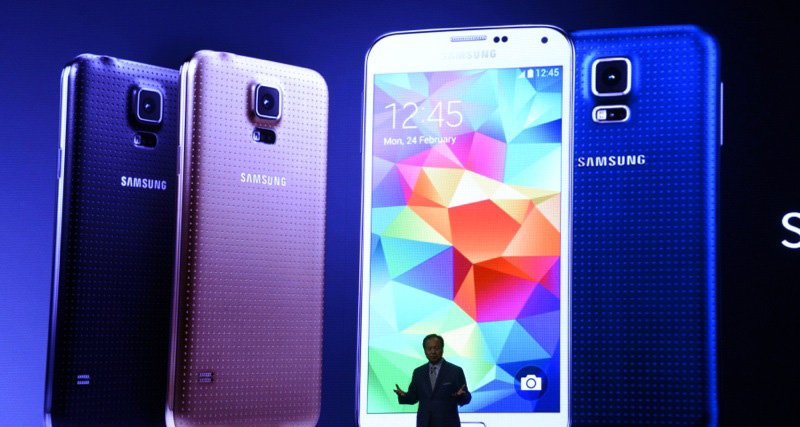 There is also a textured pattern on the reverse of the phone, which is said to be similar to that of the back of the 2012 Google Nexus 7. The aim is for this textured reverse to help you better hold and grab your phone, but for me, I'm really not taken with the look just yet. Maybe it will grow on me.
Galaxy Gear 2 & Galaxy Gear Fit
During the Mobile World Congress event tonight we also saw the new Galaxy Gear 2 and the Galaxy Gear Fit which I have to say looks the part.
The Gear Fit is equipped with a screen that fits perfectly on your wrist and gives notifications about SMS, and missed calls but also serves as a way to monitor your heart rate while exercising.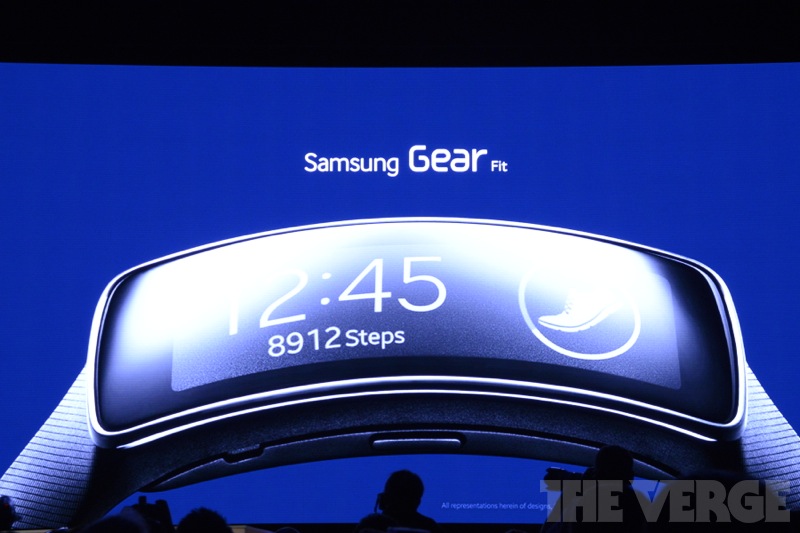 The Gear 2 is also said to last up to 3 days which is 3 days longer than the first Gear, and it also boasts interchangeable straps. You also get the benefit of it being dust and water resistant like the Galaxy S5.
The best gimmicky attribute to the Gear 2 is the fact you can also control your TV with it, like a remote control.
Weighing in at just a mere 27 grams, Super AMOLED screen, this makes the Gear 2 the world's first curved Super AMOLED touchscreen on a wearable.
Release Date
Last but not least you are all probably waiting in anticipation to when you can get your hands on these gadgets. Well, wait no longer, these will all be available on 11th April, in a total of 150 countries.