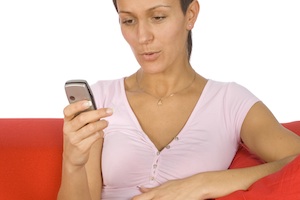 The Samsung Epic 4G is the company's most recent entry into their Galaxy S class of phones. Designed to run on Sprint cellular service, the Epic 4G features a platform based on Android version 2.1.
Pros
Speed is a major concern of the Epic 4G, and Samsung really delivers on several different fronts. Not only does the processor run at gigahertz speed, the device can use data connections at WiMax 4G levels for a true "mobile Internet" experience.
Besides speed, this phone also has several strong advantages including the ability to convert itself into a Wi-Fi hotspot. When run in this mode, as many as five separate Wi-Fi devices can be accessing data at 4G speeds — all at the same time. A great internet connection, however, is only useful if the phone has an easy way to let users input data. Here again, the Epic 4G excels, offering a QWERTY keyboard that slides out for ease of entry. Apps designed specifically to work with social media sites make data entry even easier and demonstrate the seamless way this phone takes users on trips along the information superhighway.
Cons
For a phone with the latest features, the Epic 4G is lacking in the design department. It is not as slender and streamlined as the iPhone, which is quickly becoming the standard by which mobile phone aesthetics are judged. This phone is perhaps larger than most users would like and will not easily slip into a pocket.
Conclusion
Although the Epic 4G is quite large, it makes up for it with superb technological features.