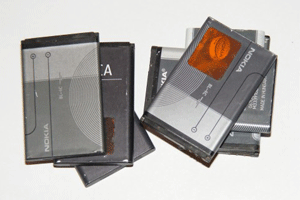 Recycling cell phone batteries is the new gimmick at Recyclemania, a waste reduction competition held between universities all across the United States. The competing universities routinely watch and count the number of cans, cardboard and bottles that are offered up for recycling during the competition, and this year, old cellular phone batteries are now also being allowed and counted.
The contest, which began on Sunday, will run until the second of April. Last year the Northern Kentucky University came first in the competition in Kentucky, a fact Glenn Scott, the supervisor of building services for the university attributes to it being a commuter college whose department heads print out a lot less than at some other universities. "It's a fun competition and we would like everybody within the university to be involved," says the campus and space planning coordinator, Jane Goode.
Despite the recycling of goods including the batteries of old cell phones, Scott says the issue at stake is less about recycling and more simply about cutting down waste, noting that the university encourages students to reuse water bottles, lunch containers and coffee mugs and would prefer them to reuse said water bottles rather than just recycle them straight away. "We love recycling," Scott points out, "but we would really prefer reduced waste".
Other events being staged at Northern Kentucky University are an office supply swap meet, where different offices offer excess supplies to other departments, and Take It Or Leave It booths, where students can either pick up or drop off items such as books, notebooks, paper and other supplies.