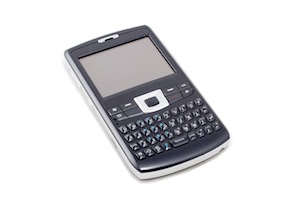 Smartphones with integrated projectors may already exist, but researchers from the University of Duisburg-Essen, which is located in Germany, are planning to take the technology that bit further with a cell phone that enables callers to interact with people in a brand new way.
Designers from the Mobile Human Computer Action group at the university have developed a concept that combines a smartphone with a Pico projector in order to allow the home screen of both user and caller to be beamed onto a desk or a wall to make collaboration that much easier.
The notion is that when a call has been made and the receiver accepts a share request, caller and receiver will then be able to work together on projects or more easily exchange content via an interactive side-by-side display of both of the smartphone screens. For instance, caller and receiver will be able to swap photos with each other just by dragging files over from one screen to the other. The content of each person is highlighted in a different color in order to keep track of who owns what.
As well as this, the research team also envisions the Pico Projector phone concept as being able to synchronize calendars and collaborate on documents with the use of various types of editing tools. The prototype is currently somewhat on the bulky and cumbersome side, but should the idea take off, the final product is almost certain to be considerably more compact.