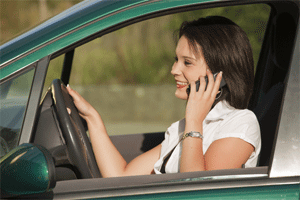 Police in Menlo Park are cracking down on motorists that use their cell phones whilst driving in April as a part of a statewide campaign to try to stress the dangers posed by distracted driving. Those given a first ticket for texting while driving or talking on their new or old cell phone without the use of a hands free device will find themselves out of pocket by as much as $159, with the cost of any additional tickets shooting up to $279.
The second in the now annual Distracted Driving Awareness Month scheme started on Sunday 1 April and is promoting zero-tolerance enforcement efforts for those who illegally use their cell phones while behind the wheel of a motor vehicle.
"Our officers have seen the grave results of distracted driving," says San Mateo Police Chief Susan Manheimer. "If you haven't heeded all the safety messages to put down your phone and just drive, be forewarned… and remember, this campaign isn't about avoiding a costly ticket, it's about keeping yourself and the ones you care about alive."
Drivers who use handheld cell phones and other such devices are four times more likely to become involved in serious crashes that cause injury, according to police. Inexperienced young drivers below 20 years of age have the highest proportion of fatal crashes that are caused by distracted driving; with studies showing that texting while driving impairs a driver's reaction time as much as being drunk behind the wheel.