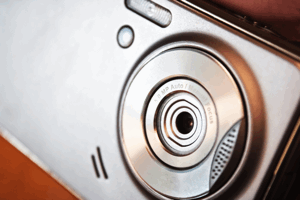 PC Magazine is asking their readers whether their cell phones have become their primary cameras. My answer – I use both. However, that's because I recently got a really great camera as a gift and, for some reason, I now imagine myself some sort of budding photographer. (If you saw the photos I take, you'd laugh.) In addition, my SmartPhone is somewhat lacking in the camera department.
According to the article that accompanies the poll, the iPhone 4 has officially overtaken the Nikon D60 as the primary camera used on Flickr. (Although, Flickr admits the numbers may be off because it does not always accurately record what device is used to upload.) In addition, there are a few reasons why camera phones are taking over.
• People carry their phones everywhere; cameras, not so much.
• The quality of cell phone cameras has greatly improved and continues to improve, providing five and eight megapixel cameras that can also produce high-definition video.
• Most phones have Wi-Fi, which makes it easy to upload a photo directly to the Internet. This is in contrast to a camera, which you have to connect to your computer, upload the images to it before you can put them online.
While I haven't yet become exactly a part of the "my cell phone is my primary camera" brigade as of yet, I would imagine that, if the next SmartPhone I get has a better camera, I could be headed in that direction. What about you? Is your cell your primary camera?