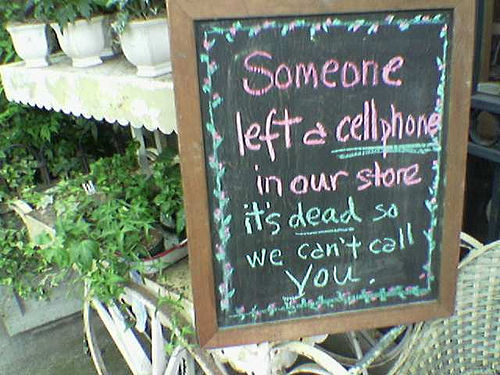 You walk in the door after a long and entertaining night out. You pull out your wallet and keys from your pocket, but after a few seconds you realize you're missing something.
Where's your cell phone? Anyone who has been using cell phones for long is familiar with that sinking feeling in the pit of your stomach. Not just because you're not sure if it's lost, or if someone has actually stolen it, but because smartphones are becoming full of personal, private and sensitive data that can end up being maliciously used against you if found in the wrong hands. You're hardly alone in this feeling, as Digital Trends reports $30 billion in cell phones are lost annually. Stay calm once you discover your cell phone is missing, and follow these tips to start damage control.
Anti-Theft Apps
If you have an anti-theft app on your phone, go to your computer, and quickly send the activation signal. Some features these apps have include taking pictures with the front-facing camera and uploading them to the cloud, activating the device's location through GPS tracking, completely locking down the cell phone and allowing you to remotely wipe all of your data. Since the amount of personal data on a phone can easily lead to identity theft that loses you money, tanks your credit rating and causes all sorts of other hassles, you need to make sure you can clear it in an emergency. Quickly change all of your passwords associated with app log-ins on your phone as well.
Call the Business
If you think you just left your phone at a business you were visiting, call and ask if any have been turned in to lost and found. If you suspect your phone has been stolen, get in touch with the police, and provide them with GPS tracking information. Anti-theft apps are helpful for police looking for your cell phone, and the more accurate the app, the better.
Call Your Phone
If your phone is locked with a passcode, it's possible someone found it but has no idea how to get in touch with you because they can't access anything. There are also apps available that show the person who found it who it belongs to and how to get it to you. Consider offering a reward to provide incentive to return your phone, and to compensate someone for the time it takes out of their day.
What to Do Next Time
Smartphones are always going to be a target of theft, due to their small size and high price tags. The most expensive smartphone in the world is a diamond-covered iPhone 4S valued at $9.4, according to Sprichie.com. While your average smartphone is in the $300 to $400 range, that's still a lot of money on an easy-to-sell device for thieves. Hopefully there will never be a next time, but there is no guarantee. Instead, be proactive about keeping your smartphone safe.
Have you dealt with phone loss before? What steps did you take?