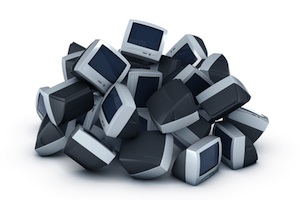 Nigeria is sitting on an electronic waste time bomb that will eventually explode, with Nigeria lagging behind developed countries that have found ways of managing the problem, according to a computer product dealer from Ikeja Computer Village.
Worldwide, electronic waste is now regarded as a rapidly expanding issue due to the environmental and health implications that are posed by the indiscriminate dumping of such materials. Technology experts define electronic waste, or e-waste, as the likes of discarded computers, entertainment device electronics, television sets, office electronic equipment, refrigerators and old cell phones. The definition includes those used electronics that are destined to be reused, resold, salvaged, recycled or disposed of, but rapid advances in technology as well as falling prices, planned obsolescence and changes in media have resulted in an expanding surplus of electronic waste all over the world.
It is believed that around 50 million tons of electronic waste is produced each year all over the world. The United States alone throws away as many as 30 million personal computers per annum, with Europe disposing of 100 million old cell phones on an annual basis.
The Environmental Protection Agency believes that barely 15-20 percent of this electronic waste is recycled, with the rest going straight into incinerators or landfills. While technical solutions to the problem are available, experts believe that in the great majority of cases a collection system, legal framework, logistics and various other services will need to be put into place before any technical solutions can be applied.