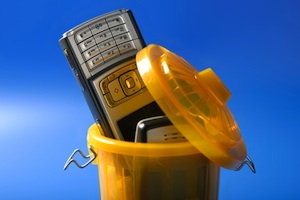 It is now compulsory in India for the manufacturers of electrical and electronic equipment, including the likes of old cell phones, to collect the electronic waste that is generated by their products. When it comes to the city of Pune, which produces as much as 10 percent of the electronic waste in the entire state of Maharashtra, the move should help to ease the burden of the Pune Municipal Council (PMC). The council has been finding it increasingly difficult to manage its electronic waste, the waste that is generated by the improper disposal of electrical and electronic equipment.
Despite the repeated orders of the Maharashtra Pollution Control Board (MPCB), the Pune Municipal Council has failed to make any substantial provision for the collection and disposal of electronic waste that is generated in the city. The Maharashtra Pollution Control Board has pointed out that 20,270.6 tons of electronic waste is generated by the state, of which 2585.21 tons come from Pune with 1032 tons generated by the Pimpri Chinchwad area.
The obsolescence rate for new cell phones in Pune is just two years, with the rate for computers being five years, refrigerators seventeen years and televisions fifteen years. Because of this Pune has been identified by the Central Pollution Control Board as one of the top ten cities in India generating electronic waste.
"It is a fact that despite all efforts we have failed to manage our waste," admits a senior PMC official. "We don't have a proper mechanism to dispose of e-waste. It is good that the government has now made producers accountable."