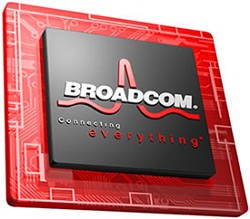 A microprocessor manufacturer named Broadcom has introduced a new kind of dual-core CPUs to be utilised in affordable Android devices.
This new chip is called the BCM2157 baseband processor. The company's opinion is that this chip has a hotspot integration that will provide support for multi-touch facility, HDSPA and a camera with 5 megapixels. Further Broadcom says that the processor also features a high degree 500MHz processor.
Dual-core processors are not new in the market, but Broadcom took the first step to specifically provide it for budget smartphones instead of targeting a higher class of handsets. This was done with the belief that the chipset manufactured by them will provide customers with powerful smartphones without emptying their pockets.
Broadcom could be considered as a winner with an increasing need for using mobile phones despite of the troublesome economic conditions.
Other news is talking about a new sort of application for iPhone 4 that enables users to know about the latest additions in music charts.
This is a welcome application for those who love to watch programmes like music programmes for kids that are on every Saturday morning and the 'Top of the Pops'.
One version for iPad and two for iPhone constitute the three versions of this application. As expected, the versions for iPhone have both a free and a paid alternative.
In the free version, users will get the top ten albums and singles along with clips from iTunes. While in the paid or premium version, users will get the top 100 official albums and singles with a few other charts. The paid version of this software costs £1.79.