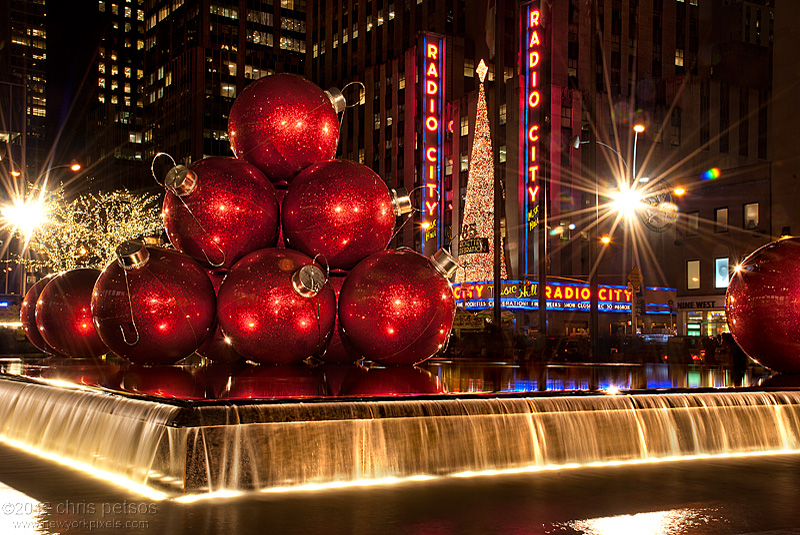 The holidays are a special time no matter where you choose to spend them. Everything is covered in sparkling lights, people are excited to spend time with their family and friends, and the world seems to be full of good cheer. No matter where you live, however, nothing can compare to Christmastime in New York City. As the weather turns cold, the city seems to come alive with wonderful and exciting activities that are only offered for a month out of the year. Here are a few of the things you must do when you spend the holiday season in NYC.
---
See the Rockettes at Radio City Music Hall – The Radio City Christmas Spectacular has been a staple of the holidays in NYC since 1933. Featuring vignettes that center on every aspect of the Christmas season, the centerpiece of the Spectacular is the world-famous Rockettes. This group of lovely ladies is famous for their kick-lines, but their dances throughout the show are amazing on every level. More than any other show in New York, Radio City's offering is all about spectacle, and it features breathtaking new technology combined with simple feats designed to shock and amaze you (such as the nativity scene complete with live camels). You won't want to miss this classic, which plays the famous theater each year throughout the month of December.
---
The Christmas Tree at Rockefeller Center – You've undoubtedly seen the giant Christmas tree in the courtyard of Rockefeller Center on your TV screen each year, but nothing compares to seeing it in person. The enormous trees chosen to erect outside the landmark building each year are often more than 100 years old, and they are decorated to the nines. No trip to NYC at the holidays is complete without seeing the tree in all its glory. You can also grab a hot chocolate and watch the ice skaters in action on the rink that stands in its shadow, though actually skating there is more expensive than some other great rinks in the city.
---
Holiday Markets at Union Square and Columbus Circle – Each year, hundreds of vendors come together and put up outposts at two giant holiday markets: one in Greenwich Village's Union Square and the other at Columbus Circle in Midtown. Plan to spend hours walking around the labyrinth of booths, which sell anything from candles to handmade ornaments to exotic teas and spices. You can get a good portion of your Christmas shopping done in one afternoon by picking up unique gifts for your friends and family. Remember to come hungry because both markets feature booths from delicious food vendors as well.
---
Department Store Window Displays – In honor of the holidays, several of New York's biggest department stores fill their windows with elaborate and beautiful displays that won't cost you a penny to see. Simply walk by Macy's, Bloomingdales, or most of the stores along Fifth Avenue's shopping district to see what the talented artists have created for this year's windows.
---
FAO Schwartz – While it's there 365 days a year, there's something special about going into NYC's biggest toy store at Christmastime. As you enter, you will be greeted by a toy soldier, and this is just a preview of all the magic you will discover inside. Make sure to find the larger-than-life piano featured in the movie Big and jump around on the keys to play your favorite Christmas carol.
---
Skating in Central Park – While the rink at Rockefeller Center is more famous, the best place to ice skate in NYC at the holidays is Central Park's Wollman Rink. While the experience isn't any less expensive, the rink is much larger, and you get the thrill of skating in the middle of the grand park, which always looks beautiful in itself at Christmastime. Enjoy picturesque views of the skyline while you skate around the rink. Whether you are an advanced skater trying to perfect your arabesque or a novice just trying to keep from falling, Wollman Rink is a great place to do it.
---