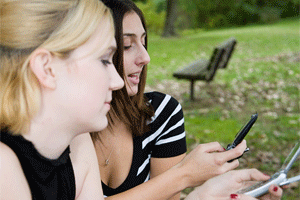 A new or old cell phone is a big responsibility, particularly when it comes to children. It raises the issues of exposure to mature content, neglect of schoolwork, cyber-bullying and sky-high cell phone bills. The good news for parents is that cell phone providers are not leaving them without options to control their child's behavior when given a cell phone.
Last week Sprint Guardian was announced by Sprint. Sprint Guardian, which costs just $9.99 for up to as many as five lines, addresses all of these concerns in the one package and is set to be launched in the summer.
While Sprint are offering what certainly appears to be the most comprehensive set of parental controls, including the likes of location tracking and alerts when a child both downloads a new app or texts an unknown number, they are by no means the only ones offering at least some degree of them. AT&T, Verizon and T-Mobile now also offer similar services.
All four of the major carriers allow parents to be able to track the location of their child as well as set up zones where they are permitted to go, which sends an automatic alert to parents either via their cell phone or their computer should they stray outside of that area. T-Mobile and Verizon also allow parents to put a cap on how much time a child is allowed to spend using their cell phone and on how many text messages they can send, as well as using number blocking to block unwanted messages.