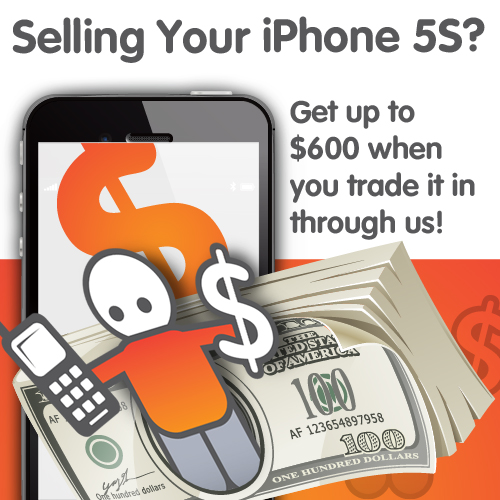 The iPhone 5S has only been officially announced for a month, and upon its release it sparked a lot of mixed reactions (as usual).
The color of the iPhone's and the TouchID fingerprint sensor were probably some of the main talking points to these new models, with Apple ditching the old black and white designs in favor of gold, silver and space grey. They also implemented new security measures by enabling users to lock their phones with a fingerprint.
Even though the new phones look great, perhaps you have gotten bored of it already, or maybe it just hasn't lived up to your expectations?
Either way, you are probably looking at trading it back in for a cash lump sum, and sticking with your iPhone 4S or 5. Maybe you want to put the money you get back for your iPhone 5S to another phone?
Well we can help you right here! We will highlight the benefits to using our service, and give you a quick 4 step guide to how you can sell your iPhone 5S.
Benefits of Selling Your iPhone 5S With SellCell.com

We offer a best price guarantee, so you won't find a better price anywhere else.

We compare a range of buyback companies to help you identify the highest price.

All our buyback companies are thoroughly checked out before and during their time on the site.

You get to sell your phone for a fixed fee, with no added or hidden costs.

We have been featured in major publications and TV shows including the Boston Globe, NBC News, ABC News and The WSJ.
Step 1. Search For Your iPhone 5S
Use the search box at the top of the page to search for the exact iPhone 5S you want to sell. By that I mean the carrier you are locked to, and the correct memory (16GB, 32GB or 64GB).
Step 2. Select The Best Deal
Choose which buyback company you want to sell your iPhone 5S to, and click 'Sell Now' to go through to their site.
Step 3. Ship Your iPhone 5S For FREE
After you have clicked through to your chosen buyback company fill in your details and follow the instructions to post your iPhone 5S to them.
Step 4. Check The Mail For Your Payment!
Once the buyback company has received and checked your iPhone they will send you payment. Sit back and wait for your cash or vouchers!
How To Reset Your iPhone 5S