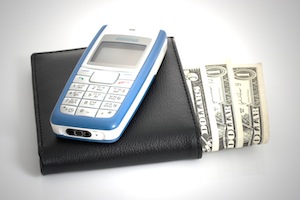 Four cell phone companies are being sued over their 'system access fees' by a law firm in North Vancouver, Canada, which specializes in class action lawsuits. The firm has filed court documents against the four companies, Bell Canada Enterprises Inc, Fido Solutions Inc, Rogers Communications Inc and Telus Corporation, on behalf of all the cell phone customers in British Columbia.
Should the claim be successful, it could be worth as much as a $1 billion, according to Jim Poyner. One of the law firm's consultants in North Vancouver urged them to take a look at the system access fees of the four cell phone companies, which have been an addition of $7 on monthly bills for their customers on a regular basis.
Several decades ago, back in the very early days of cell phones, the federal government charged the companies such a fee, which was then passed on to the consumer. Yet while the government stopped charging those fees many years ago, the customer continues to be charged by the phone companies, Poyner claims. The lawsuit alleges that the cell phone firms have been misrepresenting those fees as a fee paid to the government or a form of tax, when it is nothing but another charge imposed by the cell phone firms for their own purposes. The lawsuit is demanding that the companies cease charging the fees and pay back to customers the amounts that they have already paid.