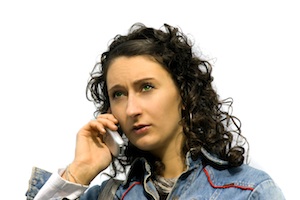 Designed to be used with the Spring cellular service, the Kyocera Brio is free, as long as users are willing to sign up for a two-year service contract.
Pros
The voice quality on the Brio is solid and the integrated email application provides users with rapid access to email from web-based providers such as Google and Yahoo. Users concerned about memory will be happy to discover that this unit provides an expansion slot capable of handling a 32GB card.
Cons
Although the unit does provide a QWERTY keyboard, the Brio is not a slide phone. As a result, the keys are crammed into the small footprint typical of full-keyboard phones that are not sliders. Typing is difficult as a result, and while children or teenagers with their smaller fingers may not have a problem, the average fully-grown adult male will probably find typing on the Brio an awkward proposition. The screen on the Brio is also relatively small, though users may not notice that as much since internet browsing on this phone is sluggish enough that users may prefer to wait until they get home and can use a computer. The internet problems are partly because the Brio has no 3G feature.
Conclusion
The old saying that you get what you pay for is no doubt true in this case. The Brio's free price means that it may be a good starter phone for some, but many users will want the features lacking in the Brio.