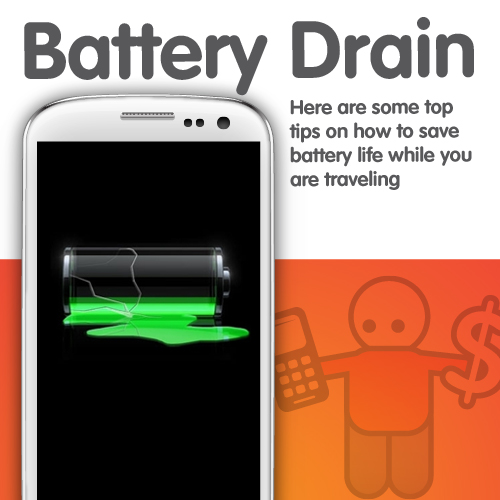 The iPhone is amazing, there is no doubt about it. But the battery life can be a huge issue for people with a traveling lifestyle.
Usually, most of us are only an hour or two away from a power outlet. Although a rapidly draining battery can induce anxiety, we can still make it to the charging station with some time to spare. Most iPhone users are familiar with the mad dash to find the nearest electrical home when they are in or around their homes. But it is a completely different ball game when we are away on business or vacation.
An iPhone would make for a great travel companion if it wasn't for the darn battery!
But here we have some tips, tricks and product recommendations to help you use your iPhone optimally during vacations. We have spent a lot of time figuring out this stuff, so you can have the best advice for iPhone battery issues. So get reading.
Out And About – Quick iPhone Tips For More Battery Power
These are all pretty common sense ideas if you ask us. Yes, some of them defeat the purpose of owning an iPhone in the first place. But when you are in a tough spot, battery wise, every little thing helps. Try these tips when you are sure you won't be able to find a place to put the iPhone Battery Charger
on your travels. Here it goes:
1. Turn off Auto-Brightness
And then turn the brightness all the way down as well. You shouldn't be able to see the screen at all! The screen brightness is one a major battery power guzzler. Yes, this sort of makes the extra bright, razor sharp screen totally pointless, but when you want your battery to last, it is important to use it as little as possible.
2. Turn off All the Apps When You Are Finished Using Them
You can turn off the apps when they freeze, stop working or when you just want to. This is important because apps hog the battery life a lot. Know how you use Google Maps all day? If left working in the background, this app can eat up all the battery power in a matter of hours. So turn it off along with all other apps that you won't be using.
3. Make It a Habit to Turn the Screen Off When Done Using Your Phone
Know that button on the top of your iPhone? The one used to turn the power on or off when held down for a couple of seconds? Yea, that one! Press it and release really quickly to turn off only the screen. Less screen time means less battery drained from your iPhone.
iPhone External Battery: The Top Tip For The Serious Traveler!
Keeping the iPhone charged can be a continuous battle when you are travelling. So why not invest in a few iPhone accessories that can help you keep your iPhone charged at all times. These include portable iPhone chargers and iPhone Battery Packs.
Want your iPhone to become your ultimate travel companion? Here are a few suggestions for accessories that can help you get the most from your device.
Portable iPhone Chargers: Absolute Power In Your Hands (and Pocket!)
A portable iPhone Charger gives you the freedom to fully charge your device instantly, anywhere. These can have powerful built-in batteries up to 2600 mAh which is more than enough to take care of all your battery needs for a while. They are small enough to fit into a purse or even the pocket of your pants.
So essentially, you have twice the power of an iPhone battery on your person if you own one of these. Just plug these potable chargers into your iPhone, and your device will charge right up no matter how far away you are from a power outlet.
The Power bank for iPhone is bigger than the portable ones and comes prepackaged with a USB cable that connects them to the iPhone. These vary in sizes and powers. You can get a small 3600 mAh one or a big fat 20,000 mAh battery, fully clad in aluminum. The big ones can get as big as external hard drives and store enough power to charge your iPhone 3 or 4 times over. Some of them even have 2 USB ports on them so you can charge your iPhone and iPad at the same time. In fact, these power-boxes will charge absolutely anything that can use a USB cable.
Keeping your iPhone protected, charged, and accessible can be tough when travelling. An iPhone Battery Pack can help you achieve the safe and charged part pretty easily. These keep the iPhone charged and ready for a long day or even a couple of days of being away from a power outlet.
These are basically iPhone cases with an extra battery built right into the case. The solid protective case has a connecting 30 pin slot at the bottom that slides right into the iPhone. When connected and on, these external batteries will provide a steady flow of power to your iPhone, keeping it charged for a lot longer than the typical iPhone battery.
The Last Word!
It doesn't matter where in the world you are off to, it is important to have a steady and dependable way to charge your iPhone to stay in touch with the rest of the world, take pictures and update statuses on the go!
Charging power is an absolute necessity for iPhone users because of the big screen, fast processor and multitasking capability of the device. Ensure that your device never runs out of juice or you may risk being stranded in the middle of nowhere! So whether you are off to spend the day at the museum or planning an exotic getaway to the remote jungles of Burma, make sure you have something that lets you use your iPhone without worrying about the next time you will be able to get close to a power outlet and unashamedly charge your iPhone!