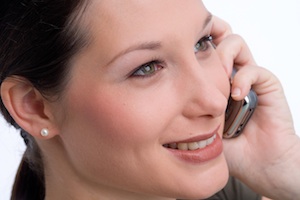 The HTC Rezound, available for use with Verizon's cell phone network, is scoring high marks with consumers for its technological features.
Pros
The display measures 4.3 inches and features an HD 720p display, which makes it easier to navigate data services and operate the phone itself. Another advantage of the Rezound is its speed, due to a dual core processor running at 1.5 GHz. The dual cameras are another plus, offering a rear camera with 8 megapixels and a front camera with 2 megapixels. The phone can use Verizon's 4G/LTE network.
Cons
While the bells and whistles on this phone are top notch, it falls down in some other important areas. Even in this age of high tech, for many users the primary and most important use for a phone will remain the most traditional one: voice calling.
Unfortunately, the Rezound offers sound quality for voice calls that is only average. This is slightly odd since the music player features a proprietary algorithm designed to make audio quality better, but the benefit of the algorithm doesn't appear to transfer over to voice calling as well. The addition of a pair of earbuds shipped natively with the phone doesn't make up for the disappointing sound quality.
Another disadvantage of the Rezound is its bulk. Weighing in at almost six ounces, this is not the sleekest phone on the block, nor even the most slender phone to offer comparable features.
Conclusion
For people who don't do much voice calling and don't mind a little extra heft, the Rezound will be a resounding success.