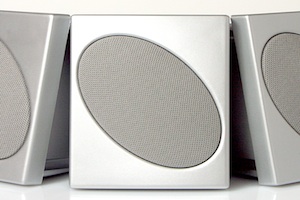 There is no doubt that Americans have a decided preference for communicating the modern way: on their cell phones. As the technology underpinning these most useful of devices has evolved, handsets themselves have gotten progressively smaller. While this provides great advantages in terms of portability, there are some trade-offs to be considered. One of the primary ones is sound quality. The tiny speakers built into today's cell phones are adequate for their main purpose, but audiophiles generally believe that decent quality for music can only be had if headphones or speakers are connected to the cell phone.
This situation, however, may soon be changing. NXP Semiconductors has taken a close look at the tech solutions that make hearing aids possible, and has come up with new chips that could be incorporated into future cell phone speakers. The technology would boost the RMS output of miniaturized speakers more than fivefold, increasing it to 2.6 watts from today's standard of half a watt. There is reason to believe that NXP may be onto something because they are the very same firm that helped to develop the NFC technology, which is the basis of some 'contactless' payment systems currently being tested and promoted.
With such exciting developments coming to cell phone users soon, it seems that there is more reason than ever before to swap out an old phone for a new one. For consumers asking themselves the question, "How can I sell my iPhone?" the answer is simple: look for a cell phone recycling company online.