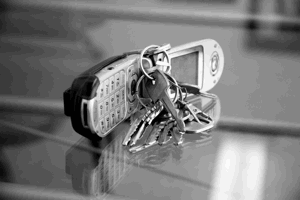 On the Wall Street Journal today, I read an article about how hotel companies are working hard to create better room keys. While some are opting for permanent keys that repeat guests can keep and reuse trip after trip, others are getting rid of keys altogether – allowing guests use their cell phones to enter their hotel rooms.
Part of the idea behind both methods is to reduce the need to check in at the front desk. This is particularly useful during large gatherings and conventions, where the wait to check in can get quite long. The other thought is to the regular traveler; the businessperson who goes to the same hotel multiple times throughout the year. Using his cell phone, he or she can bypass check-in, go straight to their room, and get on with the work they are there to do.
The other good news about the new systems is the elimination of those horrible card keys; you know the ones you have to swipe several times to get to work – that is, if they haven't demagnetized and stopped working altogether.
While permanent keys use RFID technology that tracks the key every time it is used, cell phone keys work differently. The guests receive their hotel room number via text message and a phone number to dial. Once they are outside their room, they dial that number and place their cell phone next to the lock. A short, audible tone emits and the door unlocks.