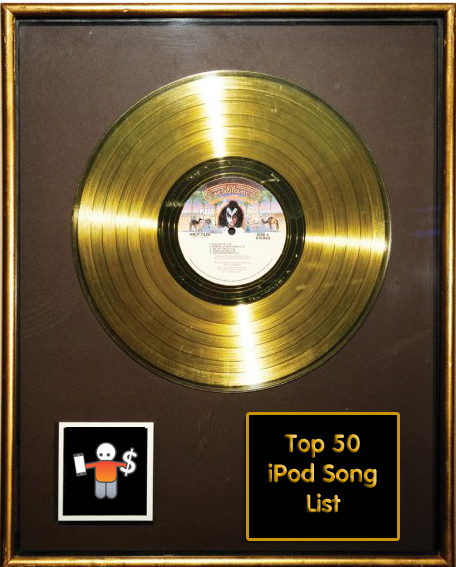 How many times do you get bored with the same old songs on your iPod or phone? Well you're in luck lads and lasses, as we have compiled a list of 50 songs that will help walking to work a pleasure rather than a chore.
1. Queen – Bohemian Rhapsody
Why? Because it's ridiculous, totally over-the-top, and the anthem of the greatest film of our time: Wayne's World. Plus, there's no greater song to rock out to while you're getting psyched for that big, important business meeting.
2. Regina Spektor – On The Radio
Quite simply: fun and beautiful. A perfect light, catchy song for a spring morning stroll.
3. Obadiah Parker – Hey Ya
Possibly the most underrated cover of our time. Parker covers OutKast's "Hey Ya" with contagious enthusiasm in a stirring arrangement that will leave anyone smiling.
4. Tool – 10,000 Days album
You will never have enough rock in your life, not even after listening to 10,000 Days at an ear-splitting level, on loop, for a week straight. Which you should do, immediately.
5. Stars – Ageless Beauty
After settling down after your rockfest, check out Stars, an awesome guy-girl duo with unique, clean voices, and killer harmonies.
6. Killers – Smile Like You Mean It

Do yourself a favor and listen to Smile Like You Mean It. That's some classic pop, right there. We dare you not to smile while listening to Brandon Flowers croon.
7. Sigur Ros
After you storm out of the office and need to repress the urge to murder your boss, chill out to this Icelandic miracle band. Don't try to decipher the lyrics, though. The guys made up their own language. Far-out.
8. Band of Horses – Is There a Ghost
Beautiful, meditative, and fresh out of Seattle, Band of Horses lulls the listener into a happy stupor right before they seriously (and surprisingly) rock out.
9. Dave Matthews – Dream Girl
Okay, so DMB got appropriated by fraternities and sororities, but that doesn't mean they're not still an awesome band. If this song doesn't get you dancing on your way to work, nothing will.
10. Death Cab for Cutie – I Will Follow You Into the Dark
If an office romance is in the works, listen to this moving tribute to naïve, new love.
11. Glen Hansard & Marketa Irglova – When Your Minds Made Up
Everyone remembers the song "Falling Slowly" from the surprise smash-hit film "Once," but few remember this one, arguably the more spirited jam of the two. Much can be said about the quality of the vocals and instrument layering, but let's put this one simply: this song is great.
12. Guster – C'mon
Guster, one of the most overlooked pop bands of all time, have been around since dinosaurs walked the earth, and in their new album "Ganging Up on the Sun," they returned in a big, catchy way. Even on the dreariest, rainy day, this song will carry you on Cloud Nine to your job.
13. The Moldy Peaches – Anyone Else but You
Though the film "Juno" bumped this one onto everyone's radar, the Moldy Peaches have been gracing indie record stores with their simple, sing-song style and endearing unpresumptuous music for years.
14. The National – Fake Empire
The second you hear the dude's voice from The National, you think, "Oh yeah. This is going to be good." And it is. So good. Let this anthem be your armor against the tedium of modern living.
15. The New Pornographers – My Rights Versus Yours
Canada's super band, New Pornographers, are back in their latest album, "Challengers." Rich, gorgeous, and compelling as ever, these stalwart rockers effortlessly fill another album with guaranteed good times.
16. Snow Patrol – Chasing Cars
Sure, it got played way too much on the radio, but now that the hype from Grey's Anatomy has died down, it's time to revisit this beautiful ballad. Don't be afraid. This one is sure to make your heart swell with joy.
17. U2 – One
You may feel like you're trapped in a promotional commercial for the Olympics, but no one can deny Bono's power of rock. Bono defies you to feel uninspired during your trek to work when you listen to this anthem of harmony and brotherhood.
18. Andrew Bird – Fake Palindromes
Remember Andrew Bird? He was famous for about a minute and a half a couple years ago, but revisit this awesome, peppy song. Bird slurs through his lyrics, but the music is so good, you won't even notice.
19. Alexi Murdock – Orange Sky
This one is for the morning shift people. Made famous in FOX's hit show, Prison Break, "Orange Sky" is the perfect melody for a morning stroll to work just as the sun begins to rise.
20. Imogen Heep – Hide and Seek
Weird, hypnotizing, and sure to have you nodding your head so much that your trip to work will pass in the blink of an eye!
21. Stairway to Heaven – Led Zeppelin
Because you'd be stupid NOT to have it on your I-pod, that's why. This is unquestionably the number one rock song of all time. The guitar solo will leave you breathless.
22. Smells Like Teen Spirit – Nirvana
Cobain wasn't a masterful lyricist, but you won't really notice because you'll be too busy rocking out to the song that defined a new generation of whiney, angst-ridden teenagers.
23. Imagine – John Lennon
Lennon, the "yang" to Cobain's "ying," was a genius with lyrics and musical ballads. This is one of the most beautiful songs of our time, one filled with compassion and love.
24. Hotel California – Eagles
Sure, it's corny, if by "corny" you mean "filled with awesome." A word of caution: this one will get stuck in your head for days.
25. Freebird – Lynyrd Skynyrd
Simply amazing, and too often overlooked as one of the greatest bands ever, not to mention one of the greatest songs ever.
26. Wish You Were Here – Pink Floyd
Transcendent, eclectic, incredible: all synonyms for one sentiment: Amazing.
27. Like A Rolling Stone – Bob Dylan
Some songs inspire subsequent generations, and Dylan's music did just that. The grandfather of modern rock found his voice in this masterfully written folk piece.
28. Feist – One Two Three Four
This catchy little ditty will lighten your feet and practically have you skipping to work.
29. The Thermals – A Pillar Of Salt
Punk is dead? Apparently, no one told the Thermals, one of the most unique, inspiring bands to bust out onto the scene in a long time. If you need to vent frustration, shadow box while screaming along to the lyrics. Ignore the strange looks you'll no doubt receive.
30. The Rolling Stones – I Can't Get No Satisfaction
The perfect selection for your middle-management types. Tired of your job? Don't feel alone. Keith Richards isn't satisfied either.
31. Aretha Franklin – Respect
Girl power! Wail along with the Queen of Soul on your way to work to ensure an empowering, confident day.
32. The Beatles – Hey Jude
One of the greatest songs of all time from the greatest band of all time, period.
33. The Beatles – I Want to Hold Your Hand
The Beatles get two great songs on this list because they defined what great music means. Don't be shy, sing along to this one on your way to work!
34. Jimi Hendrix – Purple Haze
Jimi will help you keep your cool throughout the day. Just listen to Purple Haze, play the air guitar, and focus on being Zen.
35. Bruce Springteen – Born to Run
No road trip (even if it's on foot, to work) is complete with Bruce. His gravely voice and insistent beat make any journey an absolute pleasure.
36. Otis Redding – (Sitting on) the Dock of the Bay
Otis wrote this one a few days after his set at the Monterey Pop Festival in 1967. He drew inspiration from the Californian houseboat he stayed in. Lucky for you, Otis felt inspired, and wrote this iconoclastic song that should have a home in every I-Pod.
37. The Doors – Light My Fire
This song catapulted The Doors to overnight fame, and it will catapult you toward your place of employment with its rocking chorus and abstract, weirdly lovable lyrics.
38. Martha and the Vandellas – Dancing in the Street
Dancing in the Street will literally have you dancing in the street on your way to work, while Martha Reeves and her back-up gals harmonize and belt out this infectious melody.
39. Little Richard – Tutti-Frutti
Silly, nonsensical, and all together juvenile, Tutti-Frutti is nonetheless a classic, mostly because of Richard's legendary voice and ability to hit seemingly unobtainable falsetto notes.
40. Prince – When Doves Cry
An I-Pod isn't really an I-Pod until it contains Prince. When Doves Cry was a last-minute addition to "Purple Rain," and thank heavens it made the cut! Thank you, Prince. We are not worthy.
41. The Kingsmen – Louie Louie
No, you don't know what he's saying, and you don't need to. Just stop thinking and rock out!
42. Michael Jackson – Billie Jean
Say what you will about the man, he knew how to rock back in the day. This is one of Michael's best hits, and it should have a home in your I-Pod.
43. Roy Orbison – Crying
Aside from his legendary, unique voice, this song may perfectly suit your mood on a Monday morning walk to work. Roy feels your pain, and he'll sooth you with the power of his smooth crooning.
44. Marvin Gaye – I Heard It Through the Grapevine
Office gossip isn't new! Even Marvin Gaye heard things through the grapevine, and this is definitely a peppy song that will energize anyone for a new day of work.
45. The Kinks – You Really Got Me
Before it appeared in dozens of commercials, You Really Got Me was considered a raw, real, and outrageous. Now, it can add some punk authenticity to your I-Pod without you needing to get a Mohawk.
46. The Police – Every Breath You Take
Okay, so Sting may have been talking about stalking a woman, but nonetheless, this is a great song to hum along to while walking to work.
47. The Mamas and The Papas – California Dreamin'
Like you, John Phillips couldn't wait for summer to come, and so he wrote California Dreamin'. A little known fact: the song was originally performed by Phillips' own folk group, the New Journeymen before it was later recorded by Mamas and the Papas.
48. Van Morrison – Brown Eyed Girl
The "Sha-la-la" cheery chorus will have you singing aloud on your way to work, and who could feel blue with such a sweet melody pumping from their headphones?
49. Elton John – Your Song
This great song was resurrected in the movie Moulin Rouge, when Ewan McGregor serenaded Nicole Kidman, but the original version belongs in your play list, though Ewan's version is catchy in its own right.
50. The B-52's – Rock Lobster
This wacky, silly song found new life (and a new audience) when it inexplicably ended up in a Family Guy episode and a scene in the smash-hit comedy Knocked Up. A weird coincidence or serendipity? Regardless, it's good to see this weird, hilarious song back in the limelight.
With these 50 songs, your walk to work will no longer be a chore, but rather a fun time to rock out!