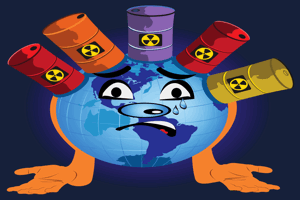 Agbogbloshie, a slum situated not far from the Ghana's capital city of Accra, is a dumping ground for tons of electronic waste, including old cell phones, which are just dumped and left to smolder in toxic piles. Disturbingly, it is an all too common sight for locals to see young children rummaging through the dangerous environment in search of as little as just a few ounces aluminum, brass, copper and zinc from used electronics such as old cell phones, which originally came from places such as the United States and Europe.
"The smell alone will drive all but the most desperate away, but many are so desperate they persevere despite the obvious dangers," says Ghanaian author and physician Dr Kwei Quartey. Quartey calls Agbogbloshie the "de facto dumping ground for the west's electronic waste".
Nearly three percent of all electronic waste contains toxins including mercury and lead, both of which are especially dangerous neurotoxins, particularly where children are concerned, according to Biology professor Deborah McGrath from Sewanee: the University of the South. McGrath says that the children who are so desperate for what they can find in the dump could end up suffering from brain and kidney damage, cancer, behavioral and developmental disorders, and respiratory illness as a result of their continued exposure to such toxins.
"Children anywhere in the world are more vulnerable to any poison, contaminant or toxin because of their rapidly developing organs," Quartey notes.