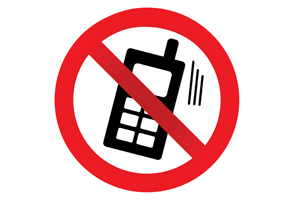 Police officers in Mumbai in India have been ordered to turn off their cell phones by their police chief, who is furious over the amount of time his men are wasting on their cell phones when they should be working. Arup Patnaik, the chief of police in Mumbai, has ordered his officers to keep their cell phones switched to silent mode during this weekend's World Cup match, the first match of which was played at Wankhede on Sunday.
Patnaik visited the stadium on Wednesday to check out the security arrangements for the match, which had supposedly all been put in place by Mumbai Police, only to be horrified to find that the majority of the men seemed to be more concerned with talking on their cell phones than doing their jobs. As a result, only senior police inspectors and senior officers will now be allowed to use their cell phones during bandobast duty.
While Patnaik declined to comment publically on the incident, another senior police official has not been so reticent, albeit making his comments anonymously. "If the majority of the police personnel on duty is busy talking to their relatives or friends, it will divert their attention from their security duty", the unnamed officer told the media. "Any anti social or anti national elements will take a chance to create a problem in and around (the) stadium."
Over one thousand and five hundred security personnel will be attending the World Cup match at Wankhede stadium.