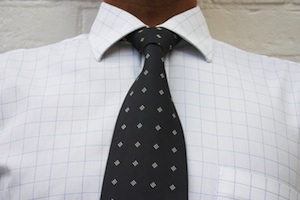 Clothes could soon be lighting up your life quite literally. Yesterday, Japanese researchers unveiled solar cell fabric that has the ability to allow people to harvest energy while on the move just by using the shirt on their back.
The new fabric is manufactured with wafer thin solar cells that are woven together. It could result in people being able to power up their new or old cell phones, along with other kinds of electronics, with nothing more than their pants or sweater.
However, its creators admit that there is still quite a long way to go until their product will actually be ready to go on the market. "We still have things to solve before commercialism, such as coating for the conductive wires and improving the fabric's durability," says one official from the Industrial Technology Center, which is situated in Fukui Prefecture in central Japan. "But we've already been contacted by electronics makers, blind makers, and others who showed interest in our invention."
The Industrial Technology Center together with a solar cell maker based in Kyoto and a number of other private firms were behind the development of the fabric, according to an official representative.
Solar power is attracting a renewed level of interest in Japan as the nation tries to find alternative sources of energy in the wake of the 2011 tsunami related atomic crisis, which was the worst nuclear accident in an entire generation.