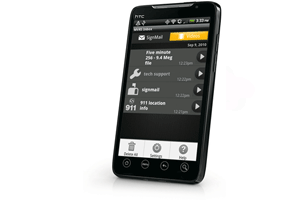 The deaf community is moving a step closer to enjoying the same technology as those who can hear via two new products that turn cell phones into video phones. A news conference held on Monday at the Rochester Institute of Technology's National Technical Institute for the Deaf saw technology company Sorenson Communications reveal – by using sign language, no less – the existence of the ntouch Pc and the ntouch Mobile. These devices turn lap top computers and old cell phones into video phones, by using the existing Video Relay Service, which is already allowing the deaf to make telephone calls.
"We're not kicking and screaming here," says the vice president of community relations at Sorenson, Ron Burdett, who is hearing impaired himself. "What we want is what hearing people have. My dream has come true."
The Video Relay Service, of which Sorenson is the largest provider of, allows the deaf to make and receive telephone calls with a video phone device known as the VP-200, which is used on a television set. An interpreter speaks English to the hearing caller or receiver, and then communicates the reply to the deaf caller or receiver via sign language. Now the same idea and technology is being applied to laptop computers and cell phones. The software is easy to use and completely free and will work with any Wi-Fi or internet connection.
"We can't very well strap our videophone and TV to our hip," Burdett notes humorously. "That's not very user friendly."