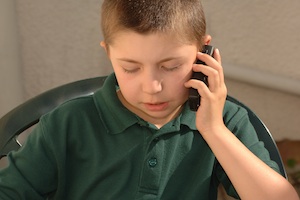 Children are becoming cell phone users at younger and younger ages, according to a study from the Pew Internet and American Life Project. The study, which was conducted last year, shows that as much as 75 percent of all children in the United States between the ages of six and 12 years old have a cell phone.
11-year-old Devyn Darmstetter is one of those, getting her first cell phone three years ago at the age of eight. Her father, Erik Darmstetter, says he has no regrets about that decision. "It was about safety", the 46-year-old San Antonio resident claims. "There was just too much worry and panic. And being able to stay in touch is priceless." Darmstetter says he made the decision after an incident in which the girl apparently disappeared, yet in reality had merely gone across the street to visit a friend without telling anyone.
"It seems a lot of kids are getting a cell phone as soon as they come out of the womb," says Compass Intelligence industry analyst James Brehm. "There are so many families where both parents are working and it becomes a convenient, safety factor for their kids."
Devyn Darmstetter, who is already onto her fourth smartphone, says she likes being able to easily contact family and friends, with her father able to monitor her usage and location. "I have it when I need it and I like it because it's just fast and easy," she says.