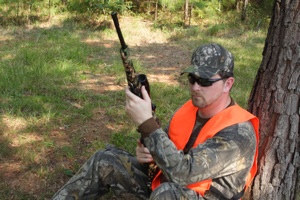 Hercules Swart is one person who will likely never have a bad word to say about his cell phone. The 21-year-old was out hunting over the weekend with his flat-mate Andrew Tod when he got lost in the Kaimais in New Zealand after the two were separated at around 2pm on Saturday.
The Bay of Plenty Four Wheel Drive Club launched a joint effort with local police to find the engineering student, with his rescuers able to stay in contact with him because he had brought two fully charged cell phones hunting with him. Swart was ultimately found not long after 1.30 am.
"It's the first time I have been up in that area of the Kaimais, but when I left I knew there was cell phone coverage throughout the Kaimais, so I made sure I had both my phones charged fully and I am so glad I did," Swart says. "I had a rough idea where I was and we did have a map and compass but unfortunately Andrew had both of them. I knew the hut where was, but I couldn't explain it to services."
Swart admits that when he first realized he was lost, he was initially not too concerned but after it became dark, he phoned his friend to tell him to contact search and rescue. "The search and rescue team were awesome," he notes.