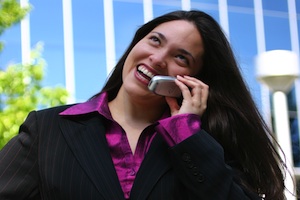 Americans are highly familiar with the claim that "all men are created equal," but a new type of mobile phone service is targeting a particular ethnic group: Hispanic-Americans.
Ultra Mobile's service is available to any customer, but has been designed with the needs of Hispanics in the United States in mind. The service includes 1,000 minutes per month of free international calls as well as unlimited text messages to nations in Latin America, all for a single monthly fee that is much less than many Americans are paying for domestic only cell phone service.
Ultra Mobile CEO David Glickman commented on the benefits of the service, which can operate on any unlocked phone including on old cell phones, saying: "It's time for a mobile carrier to offer an inexpensive way to call, text and send money to family and friends in Latin America in the palm of your hands. With Ultra Mobile, the days of using inconvenient calling cards or expensive wiring services to call or transfer money to Mexico, El Salvador, Dominican Republic, Honduras, Ecuador, Haiti or other Caribbean or Latin American countries will soon be over."
Even though Ultra Mobile can function on old cell phones, those interested in the service may want to start fresh by buying a new phone. If so, the best thing to do with the old phone is to recycle it using an online service that makes the process fast and easy. Recycled phones do not end up in landfills where they would be known contaminants to soil and water.