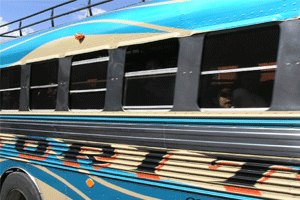 An Italian bus driver who used cell phones with both hands while steering with his elbows has been suspended from duty. The driver was chatting away merrily on two cell phones at a time while driving the bus in a unique "hands free" way. Unfortunately for the innovative bus driver, passengers did not take too kindly to the new experience, with one using his own old cell phone to record the entire incident, which then ended up being broadcast over the internet on the website known as "La Repubblica", which is based out of Rome.
When La Cotral, the Italian bus company for whom the driver worked, was made aware of the footage of the incident, they immediately acted to suspend the driver. Regional transport chief Francesco Lollobrigida says that the driver has been "suspended pending the beginning of disciplinary proceedings".
Even using just the one cell phone, never mind two, while driving a motor vehicle, is illegal throughout Italy. Bus drivers who have used cell phones while ferrying passengers have been suspended from duty in several incidents in the United States as well, although the Italian driver must surely earn points for taking the concept that little bit further. It is as yet unclear whether the driver will face charges or be allowed to continue with his job following the disciplinary hearing relating to the incident.