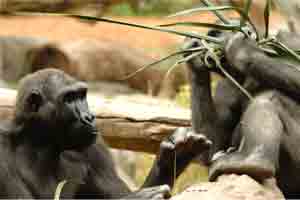 People will be able to help the wild ape populations of Africa and Asia just by recycling cell phones at Brookfield Zoo. The Chicago Zoological Society, which runs Brookfield Zoo, is holding ape awareness weekends on the second and third and then the ninth and tenth of April. This is designed to both enable people to learn about the three species of ape contained in the zoo. They are the orangutans, western lowland gorillas and white cheeked gibbons. There will be educational and fun activities making them aware of the cell phone recycling scheme being run by the zoo, whereby people can donate their old cell phones in order to help apes, which live in their natural habitats in Africa and Asia.
"Sometimes people do not think they can make a difference which affects wildlife or their habitats across an ocean, but that are not the case," says Brookfield Zoo's lead primate keeper, Nava Greenblatt. "During Ape Awareness Weekends, we hope our guests will be inspired to take action and know that the decisions they make, whether it is purchasing a consumer product containing sustainable palm oil or recycling a cell phone, can make an impact on ape populations in the wild."
The industry that makes the electronics needed for cell phones and their accessories, together with other devices such as laptop computers, e-readers and handheld games, is affecting gorilla habitats because of the need for the metallic ore coltan. Recycling these devices cuts down on the amount required and could help protect those habitats.