Blackberry's newest smart phone may or may not make the cut for the top 10 mobile phones this year – but they certainly have stepped it up a notch. While Blackberries have dominated the market for years, they seem to always fall just a bit shy of successful. Other companies such as Samsung and HTC continually overshadow Blackberry's efforts. This year, however, Blackberry unveiled the Z10: a smart phone that looks every bit as stylish as the iPhone.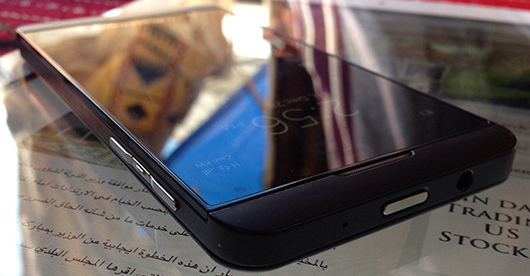 Conventional at best, the Z10 is your average black rectangular device; however the casing is a softer plastic than the iPhone's glossy finish. While the phone is a very attractive piece of hardware, it's what's on the inside that really sets it apart from the pack.
A Top 10 Mobile Phone with a New Operating System
Priced at a hefty £480 (contract free), the Blackberry Z10 is a bit of an investment, especially since it's running the new Blackberry 10 operating system. The question is whether or not BB10 can stand up to rival operating systems like iOS, Android and Windows. Your basic swipe is enough to unlock the screen, however the huge learning curve appears when you realize that there is no "home" button; in fact, there is no dedicated home screen at all. Developers created an operating system meant to enhance multi-tasking by keeping multiple apps pulled up in a two by two grid on the screen. The learning curve comes in when you realize that you have to swipe up from the bottom of the screen to bring up the multi-tasking page in order to switch between the apps you're using. To make things even more complicated, if you're running an app that opens in landscape mode you'll have to swipe from the left of the phone to exit. The whole interface seems a bit over-complicated, and having to navigate back to the multi-tasking panel every time you want to switch apps gets tiresome very quickly.
Blackberry's Hub
Similar to the iPhone's Flipboard app, Blackberry created the Blackberry Hub to integrate social media accounts such as Twitter, Facebook, email and even text messages. Unfortunately the Hub is not nearly as visually stimulating (or functional) as many other similar applications. A simple swipe to the left of the screen brings up the Hub (again, another swipe you'll have to memorize). On the main page the default view shows all of your social networks in one timeline. If you prefer to see each of your feeds individually then you can swipe even further to your left and the Hub will show you each of your social media sites individually. One giant drawback to the Blackberry Hub is that when scrolling through posts, you'll notice that it only displays posts where you're specifically mentioned. For example, you can see your direct messages in Twitter, but not other peoples' tweets. This is a huge misstep for Blackberry, not to mention the fact that the Hub lacks the functionality to mark messages as "read," meaning that when you view a notification on your desktop it will still be marked as "new" on your Blackberry. Unless you're keen to re-read posts, your Hub will get cluttered very quickly, and you will find it difficult to determine which posts are new.
App Selection and Navigation
In order to fall into the top 10 mobile phones category a smart phone has to come packing some serious apps. When Apple came out with its iOS 6 maps app, the world felt collective disappointment in Apple's development team. So far the Google Maps app is really the best contender as far as navigation is concerned – and the Blackberry Z10 is not going to threaten that reputation. Blackberry's map application is stripped down to say the least. The interface lacks a satellite view and compass mode, so there's no way to orient you to the map. Maps are sluggish at best, and often fail to load, causing you to have to close and reopen the application in order to get it up and running again. On top of all that, the app fails to geo-locate properly, and it may or may not navigate you from an incorrect starting location.
Both Android and Apple devices come with access to seriously impressive app stores – and once again Blackberry falls short. Known as Blackberry World, the store simply lacks app selection, and where it lacks in selection, it makes up in price. Many of the apps available in the store are simply overpriced. Sure, you can find your standard Facebook and Twitter apps, but noticeably absent are Instagram, Netflix and Spotify. If you're looking toward the Blackberry Z10 be prepared that you will more than likely have to sacrifice some of your favorite apps when you make the transition.
Blackberry for Businesses
Blackberry has always been known to target businesses when it comes to promoting their devices, and one of the more impressive tools in the new Z10 is Blackberry Balance. Blackberry Balance is the perfect interface for people who struggle to separate their personal lives from their work lives. Accessed from the top of the screen, a pull down tab lets you swap from personal to work profiles. These two profiles allow you to organize your separate email accounts and business specific applications. This may be one of the more popular features on the new hand set, since professionals everywhere struggle to keep track of a work phone as well as a personal phone.
While the Blackberry Z10 is a beautiful piece of technology, there are still many kinks Blackberry needs to work out. Until they have an established app store Blackberry can simply not be a contender in the smart phone market. With giants like Apple and Android dominating the market it's a challenging leap to take, perhaps the Z10 is Blackberry's first jump into the world of smart phone operating systems.
Sam Jones wanted one of the top 10 mobile phones in the smartphone range. He got a great deal by browsing sites like uSwitch.com and managed to save money